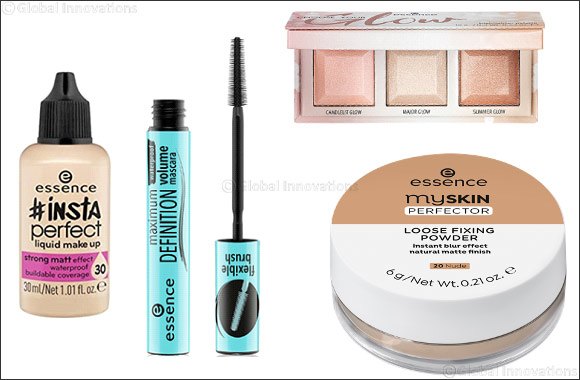 It's that time of the year again, where words like sweat-proof, bronze and shimmery catch our undivided attention. This summer, essence has rounded up some of your favorite products, and don't you worry, we kept it glam! Some of these products are waterproof, so you don't have to worry about your make-up melting off in the summer heat!
Summer Product 1: The brand-new maximum DEFINITION mascara waterproof will never fail to disappoint. This beauty will guarantee your lashes stay dramatically voluminous, defined and lengthy too! It is as waterproof as they come, no fuss of melting off, imprinting on and drying due to the heat.

Summer Product 2: We all have that one palette that never seems to fail, the "CHOOSE YOUR Glow! highlighter palette" is the one we are talking about! That bronzed up summer look has to be topped up with the perfect light reflecting highlighter. This palette has three radiant highlighter shades that are guaranteed to definitely impress.

Summer Product 3: What's more crucial than setting your base with something that's reliable? Waterproof foundation is an absolute must-have! The insta perfect liquid make-up from essence has buildable coverage and a strong matt effect! This will ensure your make-up is set for the day – with as little to no blotting paper even needed.
Summer Product 4: The holy grail of mattifying is an absolute necessity, we are talking about the "SKIN PERFECTOR LOOSE FIXING POWDER". With its absolutely weightless formula, it is guaranteed to mattify your complexion, even out your skin tone, absorb excess oil and set your make-up in place, what else is needed in the summer heat? And the cherry on top of it all, It's VEGAN!