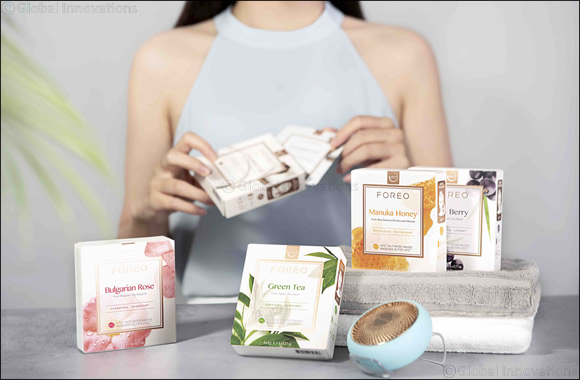 'Maskne'. Acne produced by wearing face masks.


Dubai, United Arab Emirates, July 13, 2020: ue to Covid-19, wearing a face mask has become the norm in recent months and as important as they are to protect us from unwanted diseases, if you wear them for long enough, you may start to see some unfortunate side effects; rashes, chaffing and even breakouts.

Wearing a face mask is essential. When we cough, sneeze or even just breathe, we emit small particles in the air and those particles could contain Covid-19. Face masks have been found to reduce the spread of these particles.

Here, FOREO share some tips and tricks on how to keep your face mask hygienic and your skin blemish free.

Wash your face straight after
Washing your face straight after you have removed your mask is essential to remove any sweat that has built up. We all know how humid it is outside now, it is inevitable that your skin will be suffering every time you step outside. Cleansing your face with a foam cleanser will remove any oil and dead cells from the surface of the skin which will be clogging up your pores. Try FOREO's Micro Foam Cleanser with the LUNA mini 3 to effectively yet effortlessly dislodge any oil, dirt or sweat from your complexion. The latest addition to FOREO's LUNA range, the handy device now offers a 'Glow Boost' mode where you can cleanse your skin in just 30 seconds, rewarding it with a deep, nourished glow.

Moisturise before wearing your mask
Applying moisturiser before wearing your mask can help with skin irritation. The moisturizer will act as a skin barrier reducing risk of irritation. Try FOREO's UFO activated Bulgarian Rose Mask paired with the UFO. The Bulgarian Rose Mask will replenish essential moisture in any skin type. Through thermotherapy UFO helps to infuse active ingredients deeper into the skin, locking in moisture in the skin, whilst LED lights help to rejuvenate your skin. Remember though, whilst a mask covers a large proportion of your face, it does not cover all of it. Make sure you wear an SPF on your face to protect your skin from becoming damaged. No one likes a mask tan line!

Wear a cloth mask
If you want to avoid any chance of breakouts (who doesn't?) then opt for cotton when choosing your mask. Cotton is not only softer and less irritating on your skin than a surgical mask, but it is also breathable which means it will create less of a humid environment in which breakouts usually thrive. Though, make sure your mask is properly filtered in order to do its job properly.

Wash your mask after each use
If you use a reusable cloth facemask then first of all, well done for helping the environment! But second of all, make sure you are using your mask correctly! Reusable face masks should be cleaned and disinfected after each use. Never touch your face mask whilst you're out and about without washing your hands straight after. All of the bacteria and germs that your mask has been protecting you from will end up on your hands.

Skip make-up, when wearing a mask
If you're used to wearing make-up on your entire face, it's to switch the attention to only eye level and above. Take care of your eyes by using eye cream and the cooling feature on the UFO. After applying your eye cream, adjust the temperature on your UFO through the app and use the cryotherapy mode to diminish the appearance of pores and reduce puffiness. Any pore-clogging or irritating products should be avoided to best prevent breakouts from under your mask. Plus, wearing make-up from only the eyes up is going to save your favourite foundation and your wallet! If you do have to wear make-up under your mask, then FOREO recommends cleansing your face at the end of the day with the LUNA mini 3. Reward you skin from being cooped-up all day with a refreshing cleanse and t-sonic pulsations which will remove even the most stubborn of dirt.