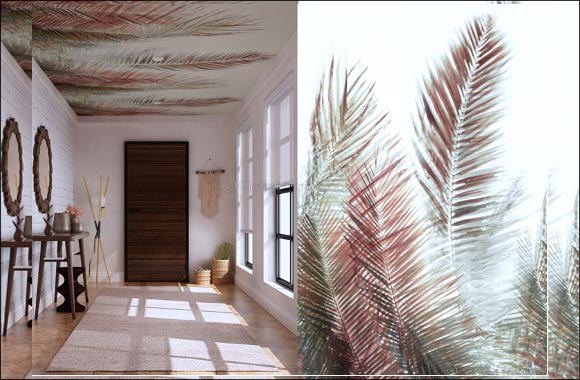 Say goodbye to traditional white ceilings and create a striking interior with a wallpapered ceiling by Sedar Global
Dubai, United Arab Emirates, June 29, 2020: Forget accent walls statement ceilings are the new hot interior trend. The ceiling rarely plays the starring role in a room. It is often forgotten, or simply given a simple whitewash. However, according to wallpaper specialists Sedar Global, the fifth wall is becoming more mainstream. Nahel Selo Creative Director at Sedar Global comments "with people spending more time in the home than ever before, wallpapered ceilings are becoming a popular option for a quick and cost-effective room makeover. Offering an incredible and underrated design element that can instantly add colour, personality, and art to your space"
Famous for its bespoke made to fit services and use of materials and wallpapers from some of the finest factories across the globe Creative Director Nahel Selo gives his do's and don'ts to work this trend. With over 11 brands to shop online or in store shoppers can select unique fabrics for curtain, blind and pillow design as well as wallpaper collections from renowned names including Versace, Jannelli & Volpi, Missoni Home, Armani/Casa, Swarvoski. In addition to in house favourites including Fujikawa and Marco Polo amongst other others. Bringing the store to the customers home, as well as purchasing and personalising their interiors online shoppers can arrange a skilled style consultant to visit their home to take measurements and provide samples for their desired interior look.

Don't: Be Afraid To Experiment It In A Small Space

Unlock the full potential of a room – the ceiling is a surface that is often overlooked and using ceiling wallpaper is a great way to create a feature small space. Nahel Selo Creative Director at Sedar comments "when highlighted with wallpaper the eye is drawn upward and is a great interior trick to make the most of forgotten interior spaces in the home - especially bathrooms and hallways. Turning them into a memorable feature without making the space feel too busy or less spacious".
Do: Stick With Your Colour Scheme

If you are pairing a ceiling wallpaper with whitewashed walls it is the perfect opportunity to transform a bland space, adding character and style through introducing a bold paper.
Selo suggests "In general, you want to be sure not to choose another colour outside of your scheme if you already have 2-3 colours in the space. Or for a real contemporary finish use a ceiling wallpaper in a block colour and no pattern tying in the same colour for chairs and sofa whilst keeping walls and floors stripped back, paired with uncluttered and curated accessories"
Don't: Shy Away From Pattern

Ceilings are a great way to inject some energy and use patterns in a less obvious way. If you decide to go with more than one pattern in the room and work a very on trend kitsch interior, be sure to vary the scales so that they balance each other out. Creative director at Sedar comments "botanicals including our tropic and floral print papers have been extremely popular choice for wallpapering the ceiling and bringing the outdoors in. Whilst our metallic papers and geometric 3D effect papers can be used to give the illusion of more space. We also offer some beautiful intricate themed prints and clever design solutions including subtle yet stylistic marble or tiled effect papers that when teamed with timeless flooring offer an extremely elegant and luxurious finish."

Don't: Wing It

Wallpapering a ceiling is not a job you want to do twice if you can help it. Nahel Selo suggests prepping like a pro: "If you're redoing the entire room, find and review samples of your paint and wallpaper along with the furniture, flooring and more". A trend best left to the professionals for installation this is one is best left of the DIY list.
Do: Play With Your Architectural Details

If your room already has an incredible ceiling, like great coffered details or an amazing arch, don't stop there! You can make it truly show-stopping with texture or color, "adding wallpaper is a playful and current approach to a traditional coffered ceiling and also a practical way to cover up ceiling cracks or imperfections that may naturally occur over time" says Selo.