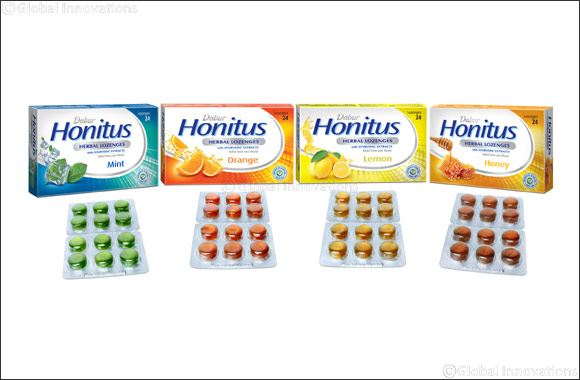 • Honitus by Dabur uses five natural ingredients: Real Honey, Ginger, Turmeric, Liquorice, Amla
• It is a natural remedy to fight infections and boost immunity
Dubai, UAE; June 8, 2020: Dabur International, one of the leading companies in natural remedy healthcare, has launched Honitus, a natural herbal lozenge made of real Honey, Ginger, Turmeric, Liquorice and Amla. Honitus provides soothing and effective relief from sore throat and cough without any side effects.
Rajul Pasrija, Brand Manager, Honitus said: "As consumers increasingly gravitate towards natural and proven remedies for immunity building and fighting infections, Dabur Honitus offers a natural, safe and effective solution to treat sore throat, cough and to build immunity as it provides strong anti-bacterial action, contains immunity boosting herbs and is enriched with Vitamin C. Dabur Honitus is made with real honey and time-tested herbs."
Dabur Honitus offers a potent blend of five natural ingredients in one lozenge:
1. Honey: Provides soothing relief, helps suppress cough and also supports immunity
2. Ginger: Acts as an anti-bacterial agent, thus helps fight infections
3. Turmeric: Acts as an anti-inflammatory agent, thus helps relieve pain and also supports immunity
4. Liquorice: Helps reduce throat irritation
5. Amla (Indian Gooseberry): A rich source of Vitamin C, thus helps boost immunity to prevent recurrent episodes
Dabur Honitus lozenges are available in four different flavors: Honey, Orange, Lemon and Mint. All variants contain Real Honey, Ginger, Turmeric, Liquorice and Amla.
Dabur, one of the best-known Ayurvedic brands, offers a wide range of natural and herbal products which are formulated to not only help maintain a healthy lifestyle but also promote the holistic well-being of mind and body.
Dabur Honitus lozenges is available in leading supermarkets and pharmacies across the UAE for AED 20 per pack of 24 lozenges. It will also be available soon on leading online platforms.