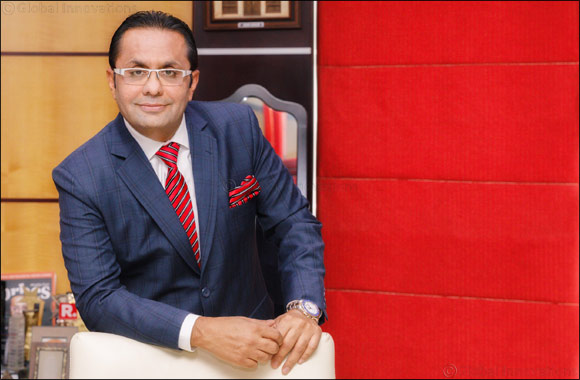 Cybercriminals created a fake Facebook account allegedly to swindle money by raising donations from friends of Mr Rizwan Sajan, Founder and Chairman of Danube Group

Date: Dubai, UAE, May 27, 2020

Rizwan Sajan, Founder and Chairman of Danube Group, has filed a complaint with Dubai Police's cybercrime unit against impersonating him through a fake Facebook account to allegedly swindle money by seeking donations from his friends.

A cybercriminal last week created a clone Facebook account in Mr Sajan's name and started seeking donations in his name. One of Mr Sajan's friends then notified him out of suspicion, when the scam came to his notice that prompted him to take legal action.

"Please note that someone has again created a fake account under my name and is sending random messages to many of my friends," Rizwan Sajan, Founder and Chairman of Danube Group, said in a Facebook post accompanied by a screenshot of the fake profile and the message sent by the cybercriminal to one of his friends.

"If you get a friend request or any such random message asking for contributions or donations, do not respond to them or revert to any messages. We have already processed a cyber-complaint and hope to catch the culprit soon."

The fraudster has been sending messages to particular friends and acquaintances of the person he or she is targeting, on a clone Facebook account in Mr Sajan's name, using link of an online crowd funding platform based out of India, to allegedly support a child suffering from a blood disorder.

A cloned or fake account is a copy that uses one's profile picture and other public information to delude friends into giving up their information. It may even convince them to send them money or other information, or dupe them into other scams.

"I was devastated when I came to know that somebody is using my name to rip people off during these tough times. I quickly reported the issue with Facebook to close the account which was taken down soon after, while I also filed a case with the cybercrime unit of Dubai Police for legal action," Rizwan Sajan, Founder and Chairman of Danube Group, said.

Danube Group recently came to the rescue of those who have been affected by this pandemic by providing thousands of free ration kits. Thousands of people benefitted from the company's ration kits – a news that went viral a few weeks ago.

Besides, Mr Riwan Sajan is also known for his social contribution, especially during the crisis period. The cybercriminal might have tried to use this campaign as being the right time to execute a heinous scam.

"I am not so sure at this point if the scam star raised money from my friends and contacts in the Facebook account. However, this is very unfortunate and causes alarm for all of us. I urge everyone to be vigilant against such scams as this is a growing phenomenon," he said.

The news comes as cybercrime multiplied during the Covid-19 pandemic, forcing the United Nations to issue a global warning a few days ago.
Izumi Nakamitsu, United Nations Under-Secretary-General of Disarmament Affairs, told an informal meeting of the UN Security Council on Friday that "there have also been worrying reports of attacks against health care organisations and medical research facilities worldwide."

She said growing digital dependency has increased the vulnerability to cyberattacks, and "it is estimated that one such attack takes place every 39 seconds."
According to Kaspersky, the average cost of a cyberattack rose to between US$108,000 and US$1.4 billion in 2019, while the average global spend on security products and services is estimated at a new high of US$124 billion.