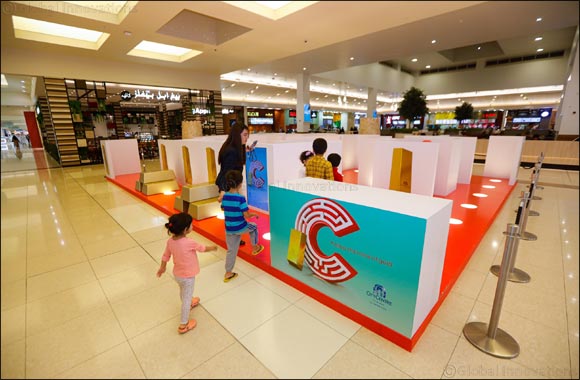 • A gamified activation will offer instant prizes when shoppers spend AED 200 or more.
• Customers will also be entered into the draw to win a grand prize of 0.5 KG of real gold.
Dubai, UAE, 10 March 2020: City Centre Fujairah has launched a unique augmented reality maze in its mall. The immersive puzzle offers shoppers the chance to win a host of prizes from retailers, and at the same time, they could land the grand prize of solid gold simply for spending across the mall. The competition will run between 1 and 30 March.
In line with Majid Al Futtaim and City Centre Fujairah's commitment to creating memorable moments, the interactive activity provides a whole new shopping experience for customers searching for an anything but ordinary retail trip. The maze not only encourages them to engage directly with the brand in a technology-enabled, personalised, and exciting way, but also offers up some fantastic rewards.
Those that take on the gamified challenge will be given an Apple iPad and sent into a futuristic maze, where they'll be tasked with navigating its augmented corridors in search of the exit. Successful players will be rewarded with a variety of retailer prizes. Shoppers will gain access to the activation when they spend AED 200 or more, and can redeem their receipts at any customer service desk for a voucher to play. When they do, they'll also gain a digital coupon that enters them into the draw for a grand prize of 0.5 KG in solid gold.
The augmented reality activation brings to life the innovative personality of Majid Al Futtaim's malls, which play a crucial role at the heart of the surrounding community, such as City Centre Fujairah. Encouraging customers to try their luck in a winding digital maze provides new ways for them to enjoy the shopping experience.
Abdulhamid Boukhashem at Majid Al Futtaim - Mall Manager, City Centre Fujairah said: "Our mantra is creating great moments for everyone, every day and this activation is specifically designed to do just that. We know that today's shoppers are looking for personalised, engaging experiences, so instead of simply offering gifts and rewards, we're bringing an element of excitement, innovation, and suspense to deliver more enjoyment and more memorable, shareable moments for everyone."
The activation can be found on the ground floor beside the Food Court.