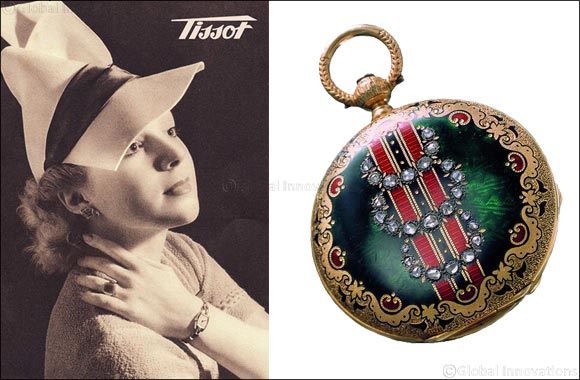 Dubai, United Arab Emirates, March 08, 2020: International Women's Day is the ideal occasion for Tissot to take a look at both its past and future relationship with women – and to pay tribute to them. And so today, through the lens of Tissot's history and creations, we are exploring this enduring and reciprocal relationship that spans several centuries. This is a story of women from 1853 to today.
At Tissot, right from its earliest days, it has always been the time of women. When the family business was launched by Charles-Félicien Tissot and his son Charles -Émile, the women of the family were heavily involved in running it. Sophie Amélie, wife of Charles-Émile, ran the firm during her husband's frequent travels, and Marie Tissot stood in for her brother when his business projects took him away from Le Locle. To celebrate International Women's Day, the history of the brand is being recounted through its women's collections, through stories from the brand archives, and through women who have made history – and been part of Tissot's own history. And all of it is testimony to Tissot's unfailing commitment to giving its female customers everything they could wish for.
The 19th and 20th centuries, from the pendant watch to the wristwatch

Right from the start, Tissot has always made timepieces for women, whether for dangling on the end of a chain or ribbon or for gracing a wrist.
The earliest pendant watches were invariably made from high-quality materials – gold, enamel and precious stones – with luxurious details. When, at the turn of the following century, women adopted a new and decidedly daring way of wearing a watch, the wristwatch, Tissot continued to charm its female customers with elegant models and a wide range of designs inspired by fashionable trends such as Art Nouveau and Art Deco. Tissot's new designs did not go unnoticed by women in the public eye, such as French tragedian Sarah Bernhardt, who acquired a pendant watch in 18-carat gold while visiting the Swiss Pavilion of Horology in Paris in 1900, or Queen Elisabeth of Belgium, who placed an exclusive order with the brand for a wristwatch on which the indexes were replaced by the letters of her first name, set with diamonds, and the Belgian royal crown.

After the Second World War, a woman and 3 watches

This was an era that favoured assertiveness. Tissot's advertising campaigns introduced its female customers to its eclectic collections, and its slogans encouraged them to make their mark: "At every hour of your day, the Tissot watch for the occasion" and "A young woman and 3 watches". At that time, the Tissot collection included several models suitable for sports activities, others suited to a business environment, and some more elegant ones for social occasions. This approach still applies today.
The 60s and 80s, the time of time

In the late 60s, Tissot watches were being worn by young people. Things were moving very fast, and watches were constantly being reinvented at an unprecedented pace. The young women of this new generation were inventing their own codes – which were quite unlike those of their elders. Tissot responded to these desires and aspirations by collaborating with international designers who came up with the Tissot Pinky – with matching ring – and the Tissot-Design. Fast-forward two decades, and trends were doing a 180. In the 80s, women were asserting themselves via unisex. Tissot therefore offered, in its quartz collection, models that could be worn by both men and women, such as the Tissot RockWatch and the Tissot Two Timer, thus blurring the boundary between genders.
Today, women are still being celebrated

Today, Tissot is still creating collections specifically for women. A classy chronograph, an oversize model, vintage with a new twist, timeless sports or innovative tactile: depending on her personality, her mood or her activity, the Tissot woman can choose between high-tech, bold and strikingly original looks, or more understated, classic and retro styles. Tissot certainly knows how to offer her a wealth of options!
Women of time

Tissot's strength also lies in its mindset. The watchmaker's commitment to being "feminist" is also expressed via equal opportunities in the workplace. The firm insists on diversity in every job role, no matter what it may be. The gender balance in the workplace is thus almost exactly 50-50. Tissot understands very well that its longevity depends not only on its products, but also on its customer base, its driving force – and its commitment.