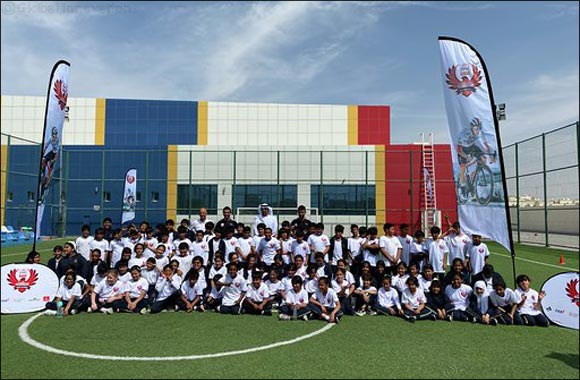 United Arab Emirates, February 20, 2020: Alexander UAE Team Emirates riders Fernando Gaviria and Maximiliano Richeze took time out of their busy pre - UAE Tour schedule to visit Wales School in Abu Dhabi who have been participating in the UAE Team Emirates Youth Academy.
The star riders were joined by 120 enthusiastic students as they got involved in a series of coaching activities and a Q & A session.
Team Manager, Matxin Fernandez said "every year we revisit the UAE and see more and more youngsters on their bikes and interested in cycling, which is fantastic to see. The youth academy is going from strength to strength and with the recent strategic partnership with Abu Dhabi Cycling Club, we're creating a clear development pathway from grassroots level to competitive level cycling and expanding on the great foundations we've already set."
Launched exclusively for school children living in the UAE last year, the Youth Academy was created with the aim of encouraging mass participation in cycling amongst youngsters in the UAE.
Four different schools across four consecutive weeks have been including the Youth Academy in their PE programs this year with a further four due to participate after the half term break. The first half of the 2020 Youth Academy will culminate in a cycling festival due to be held on March 25th at Al Forsan Kart Circuit where the inspired young cyclists will get the chance to showcase their skills in an evening full of fun competitions and activities.
The team's fastman Fernando Gaviria said "I came to the Youth Academy last year and it's great to see more kids with happy faces on bikes. I love being involved in things like this and it is a pleasure to come back again and see the progress the program is making."
New signing and world class lead-out man, Maximiliano Richeze added "I have only been with the team for a few months but I'm very proud to be part of a team that believes in investing in youth. It is a privilege to have the name of the country on our jerseys."
An emphatic start to the season for UAE Team Emirates has seen the team race to 10 victories in the first two months of the 2020 season. With the UAE Tour just around the corner, the team looks to be in good shape to take home some more victories in front of their home fans.
Fernando Gaviria has 3 victories under his belt already this season and is hungry for more at the UAE Tour starting on Sunday, "As riders, we know how important this race is for the fans and sponsors. I had wins in Argentina and won here last year. Now with Max [Richeze] in the team we will look to win more."
Team manager, Matxin Fernandez added "the UAE Tour is a very important race for us, this has always been a big focus. I know that a lot of our competition have also put a big focus on this race with a lot of riders making their return here but to us, racing in our home country in front of our fans and our sponsors is very important."