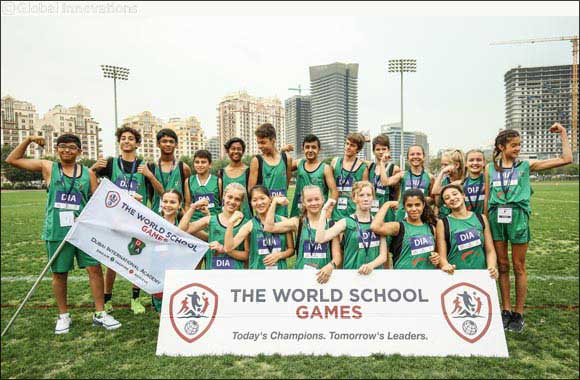 Dubai International Academy earns top spot at World School Games
Year 13 student wins Middle East Youth Expo Young Leader of the Year
Dubai, UAE, 22 January 2020: Dubai International Academy (DIA), an International Baccalaureate school run by Innoventures Education, is celebrating the start of the year with two awards under its belt.
DIA has been ranked first in the 2019 World School Games (WSG) leader board, receiving a total of 263 points and besting other schools from the UAE and around the world, including from countries such as England, Scotland, Greece, Nigeria and Egypt. The school had an impressive start of the year at Under-11 WSG and Under-13 WSG categories and won gold at Under-17 WSG Basketball.
WSG Event Series provide a unique stage for the world's best young athletes to compete with and against each other, in a positive, fun and competitive environment, at truly world class facilities. The award also recognises the institutions' dedication to school sports across the globe and their athletic achievements.
Meanwhile, Ayush Walia, Year 13 student from Dubai International Academy Emirates Hills (DIA EH), has won the Middle East Youth Expo (MEYE) Young Leader of the Year award, in the Business & Entrepreneurship category for 18-21 years. He will receive his award at the first MEYE 2020 on 5th February in Abu Dhabi.
MEYE brings together thousands of young people in the Middle East to empower them with tools, inspiration and direction to achieve their life goals as future responsible global citizens.
DIA EH, has also been named a Microsoft Showcase School, a global community of schools engaged in K-12 education transformation to improve student learning outcomes. As a member of Showcase School programme, DIA EH's commitment to school-wide transformation will be guided by Microsoft's Education Transformation Framework that starts with a clear and common vision and is sustained through a culture of learning, innovation and continuous improvement.
Innoventures Education was also shortlisted in the 'Innovation in Education Award' category at the 2020 Global Educational Supplies & Solutions (GESS) Awards for its Bug Bytes Bus. The bus is a fun and engaging innovative initiative for young leaners that aims to provide high quality technology teaching. Using a specially-designed age appropriate bus for the early years, children between three to four years will have access to a world of new experiences that will make them curious learners.