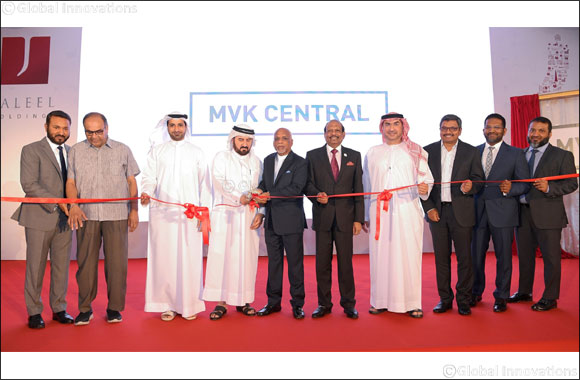 The sprawling premises, spanning over 77,000 sq.ft. and developed at an investment of AED 35 million, marks the 50th anniversary of the arrival of the Group's founder and chairman Mr. M V Kunhumohamed in the UAE.
Dubai, United Arab Emirates, December 14, 2019: Jaleel Holdings, the UAE-based leading investment company, which operates the region's largest FMCG wholesaler Jaleel Cash & Carry, has moved its corporate headquarters from Central Fruit & Vegetable Market in Ras Al Khor to MVK Central in Majan, Dubai. This shift to the new dedicated premise marks the 50th anniversary of the arrival of Group's founder and Chairman Mr. M V Kunhumohamed in the UAE.
Jaleel Holdings owns and operates wholesale, retail and distribution companies in the Fast-Moving Consumer Goods (FMCG) segment and fresh food sectors with more than 25,000 products (stock keeping units) and covering over 10,000 retailers including grocers, supermarkets and hypermarkets; hotels, restaurants and catering (HoReCa) segment, and all types of retail outlets.
The sprawling premises of MVK Central, developed at an investment of AED 35 million, spans over 77,000 sq.ft. The shift to new headquarters in Majan is a strategic move to consolidate the Group's operations under one roof as it moves ahead with major growth plans. With expansion in full swing, MVK Central will also enact as the key facilitator to continue the Group's employee-first culture in a larger canvas.
MVK Central was inaugurated by Mr. M V Kunhumohamed in the presence of M.A. Yusuff Ali, CMD of Lulu Group International; Mr. Khalid Mohamed Sharif Al Awadhi, CEO of Environment Health & Safety Control at Dubai Municipality; Mr. Abdulla Belhoul, Chief Commercial Officer of TECOM; prominent businessmen Dr. Essa Mohamed Saleh Al Rais and Mr. Abid Yousuf; Mr. Navas Meeran, Chairman of Eastern Group; Jaleel Holdings Managing Director Mr. Sameer K Mohamed, Executive Director Mr. AbdulGafoor K Mohamed and Director Dr. Zakir K Mohamed.
Commenting on the new development, Mr. Sameer K. Mohamed, Managing Director of Jaleel Holdings, said, "We are proud to transfer to the new corporate headquarters named MVK Central, fully owned by Jaleel Holdings. This is in honour of our Founder and Chairman. This transformation is a crucial milestone in our future roadmap by enhancing our culture of employee-first operation. We reshaped the region's wholesale industry for the past two decades by taking pioneering efforts to improve the service."
"The premise will help enhance synergy of different companies under Jaleel Holdings and support the group's continuing endeavour to foster best-in-class corporate governance benchmarked to global standards. Our shift to MVK Central will benefit us with increased adaptability in a dynamic market environment to enhance our employee welfare and modify operational expenses. Through these years, we kept re-inventing ourselves by constantly recreating the operational model and adapting new technological solutions," he added.
Mr. AbdulGafoor K Mohamed, Executive Director of Jaleel Holdings, said, "The four-storey MVK Central is featured with modern facilities, recreational amenities for employees and concepts that reflect the era of the Group chairman's arrival in the UAE. The premise will act as management offices of the parent company Jaleel Holdings and its key subsidiaries -- Jaleel Cash & Carry, Jaleel Distribution, Jaleel Foodservice, Eastern Condiments MENA, Orbex and Jaleel Stratex. The other subsidiaries like J-Mart, Jaleel Fresh Produce, Jaleel Fruit & Vegetables, Al Jaleeb, B&J Trading and Jaleel & Eastern Food Industries will operate from their current locations."
"We are confident that the spacious premises will create a work environment that is conducive to higher productivity, better employee relations and create shared value for our customers. We have designed the new office as a tech-savvy space aimed at attracting talent and increase productivity. This is because the modern business environment is constantly evolving with the emergence of technology as the biggest change architect that drives the working styles and needs of the workforce as well," he added.
Jaleel Holdings' consistent growth in business has brought in remarkable changes over the years. Quality, consistency and sustainability are the hallmarks of its value system that has been cascaded across the organization at all times. The company streamlined its operations to create a high level of efficiency that delivers a number of brands and products in the quickest possible manner to its customers at the lowest cost.
Jaleel Holdings' businesses are running 24/7 dealing with a very large number of transactions per day. The organization became the first wholesale business in the UAE to migrate to cloud technology solutions in the sector in 2017. This ensured protection of the company's systems from the most advanced and sophisticated threats. The Group's entire supply chain is linked together through different advanced technological solutions. In 2008, the company took the lead to implement Enterprise Application SAP, ensuring all its locations are interconnected sharing the right data on stock, as well as tracking the movement of stocks thereby striving for efficiency in delivery and maximizing our employees' productivity.