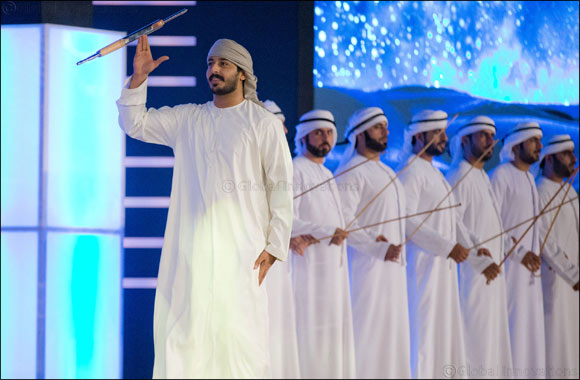 Dubai, 7 December 2019: The first episode of the 20th Fazza Championship for Youlah, organised by the Hamdan Bin Mohammed Heritage Center (HHC), kicked off to a rousing start at Global Village's Meydan Fort on Friday.

The event also marked the 15th year that the annual heritage sport became a popular live show entitled Al Meydan and broadcasted weekly on Sama Dubai TV.

Four 'Yuweel' (Youlah performers) out of the 16 qualifiers from the UAE and other Arab countries competed over the weekend. The performers were evaluated by a set of judges based on their skills in spinning and throwing a replica rifle. Bonus points were given to those who were able to hit the height of 17-20m. A loud buzzer and laser lights go off when a Yuweel reaches that altitude with his rifle.

The UAE's very own Abdullah Al Ketbi topped the first group with an almost perfect score of 49 out of possible 50 points. Al Ketbi hit the sensors four times and was able to catch the rifle three times. His Ghutra or traditional head turban fell during the performance but that did not affect strong performance as his confidence was beaming as soon as he set foot on the stage. Al Ketbi also played to the delight of the crowd, composed mainly of young Arabs from different parts of the region.

Another Emirati performer, Mohammed Abdullah Bin Dalmook came in close second after scoring 48 points. He had good footwork and was able to throw the rifle very high and catch it on his third attempt.

Sultan Al Ketbi and Saudi national Saleh Al Amri finished with 47 and 46 points respectively.

The judges' scores will be added to the public vote that is open until the next episode on Friday (December 13) and the top two performers in episode 1 will advance to the quarterfinals.

Public voting until 7pm December 13 and the top two qualifiers will be announced during Episode 2. The public can vote in the UAE by sending SMS to Etisalat 7783. To vote from the Sultanate of Oman via Ooredoo, please send a text message to 92065. In Bahrain via Batelco, send SMS to 94749, 98036, or via Zain on 94700. In Kuwait, the numbers are 4747 and 91141. In Saudi Arabia via STC 845140, Mobily 636666, and Zain 742151 and internationally via Thuraya 008821622774515.

This year's jury for the competition includes Rashid Al-Khasouni, Khalifa Bin Sabeen and Musallam Al-Amri. The official sponsors are Global Village and Al Oula Radio Network.


Cultural treat
This year's Al Meydan song is by singer Hussein Al Jasmi titled 'The Miracle', composed by Fayez Al-Saeed and with lyrics by Saeed Bin Musleh Al-Ahbabi.

Souad Ibrahim Darwish, HHC Director of Championships, noted that current season is exceptional at all levels, especially since Youlah competition is now on its 20th year.

"We have participants from various parts of the region, including Iraq, Oman, Bahrain, Saudi Arabia, Libya and the UAE. We are also pleased to see the elderly enjoying watching the Youlah live at Al Meydan Fort in Global Village," she underlined.