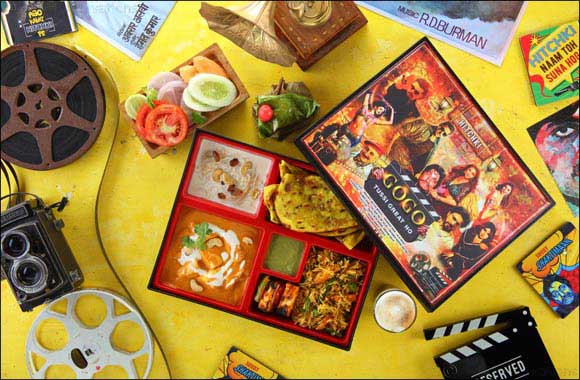 Nov,3rd 2019: Hitchki, an award winning modern Indian restaurant, located in Grand Millennium Hotel, Barsha Heights has introduced its very special winter menu offering something for everyone.
The varied and exciting menu at Hitchki features over 50 new street and signature dishes from each state of India,- which are brought to the table in a chic, modern and the most quirkiest avatar with a sprinkle of dash of Bollywood and Nostalgia.
As you dig in your forks into the "contemporary & gimmicky" new dishes, you would enjoy the Hitchki experience as much as the culinary team did while creating this multi-sensory feast where each dish is inspired by a nostalgic thought and has evolved from a discussion.
The highlights of new menu are Kamal Karte Ho Pande Ji, Anda Kejriwal, The Kapil Shawarma, Khao Meri Kasam Piyo Meri Rasam, Palat..Palat..Palak, Tiger Jhinga hai, Apne Mutton Ko Lagaan Do, and many more.
The new menu at Hitchki invites everyone who is looking to have some fun moments in a setting perfect to unwind with friends. When the delicious flavours will be brought to the table looking so appetising and quirky, we are sure that the Hitchki food would bring out nostalgic conversations among you and friends.
Chef Ajay Thakur, Corporate Chef – Hitchki says, " Food is simply not just to fill you up & nourish you with all nutrients. It is also a desire to swallow something which salivates us the want to have it. What goes in our stomach is our choice and personal palate, everyone has a unique pass code to this palate. To crack this palate pass code is our dream and we at Hitchki are on constant pursuit with that".
The meal for two at Hitchki excluding drinks costs between Dhs 160 and 200.
Take A Quick Look at Our Quirky New Menu
• Chakna: Kamal Karte Ho Pandey ji, Karara Jawaab Milega and more
• Back in time: Missile Pav, Anda Kejriwal and more
• MBA (Momo, Bao & All): M&M, Butter cream momo, Thailand, Dim Some, Steam – A – BAO and more
• Tere Mere Beech Mai: Patel Wrap, The Kapil Shawarma Roll and many more
• Burger: Pav Bhaji Burger, Delhi Belly, Bahubali and many more
• Sandwich: Gymkhana Club Sandwich
• Flatbread: Mera Korma Tu Mera Dharma Tu, De De Pyaz De and many more
• Soups: Khao Meri Kasam Piyo Meri Rasam and many more
• Salads: Ye Dhaai Kilo Ka Chaat and many more
• Kebab me Haddi: Malai Ka Aroma and many more
• Mr. Aloowalia: Ke Makhani Pe Dil Aa Gaya, Tu Cheese Badi Hai Mast Mast and many more
• Starters: Naan Khol Ke Sun Lo, Aaj Mere Pass Paneer Hai Chilli Hai, Tiger Jhinga Hai and many more
• Mains: Palat..Palat..Palak, Gadbad Bhaijaan, #GOGO Tussi Great Ho, Sarson Ki Zaroorat Hai Jaise, Simon Go Back, Hows The Josh and many more
• Biryani: Apne Mutton Ko Lagaan Do, Khayali Pulao and many more
• Dessert: Mr India, Chocolate Lava Kulfi and more