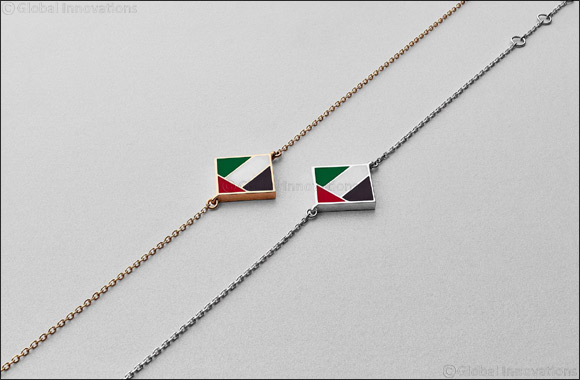 Dubai, UAE - November 25, 2019: Harmesh Jewellery, the homegrown jewellery brand for the modern woman, presents a curated line of elegant and modern pieces to celebrate the 48th UAE National Day.
Gift your loved ones, or spoil yourself, this National Day with the 18k gold and four-hued enamel pieces from the UAE National Day collection. The contemporary National Day collection symbolizes happiness, enthusiasm and the powerful woman that's full of life.
National Day Necklace (AED 1050)
Encapsulating passion and unlimited possibilities, the elegant necklace has been created from 18k gold and four hued enamel, depicting the flag of UAE. Your personality will shine through these bracelets and will last you a lifetime as they will never tarnish.

National Day Bracelet (AED 840)
The perfect embodiment of simplicity and elegance with a sleek and minimalist design. The 18k gold bracelet with the iconic colours of the UAE flag is the perfect gift for this UAE National Day.

National Day Rings (AED 735)
The National Day rings are a contemporary design, using 18k gold with the iconic colours of the UAE. Each ring features an adjustable gold metal strap to easily wrap the ring around your finger.