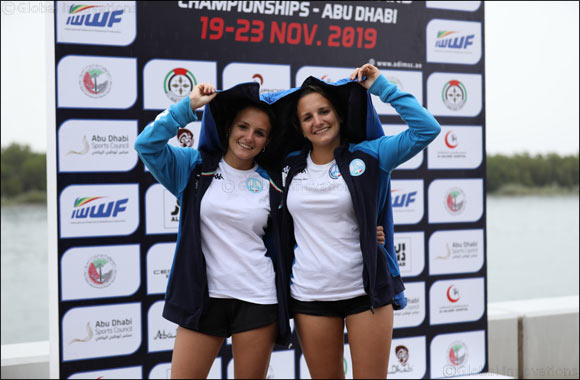 Virag sisters soar through qualifiers, but Aussie Kell sets the Open Women standard at IWWF World Wakeboard Championships
Abu Dhabi, UAE, 21 November, 2019: Italian twins Alice and Chiara Virag are largely inseparable, and it was hard to tell them apart again as they produced stunning double performance at the 2019 IWWF World Wakeboard Championships in Abu Dhabi today.
The 19-year-old sisters from Milan were in sparkling form as they both topped their qualifying heats to book places in Friday's Open Women semi-finals at the Eastern Mangroves Promenade.
If either of the twins are to go home with a gold medal, however, it may require a best ever performance from one of them, judging from the display of Australian Zahra Kell who recorded a top score of 72.78 in the qualifying heats.
Also going through was Sanne Meijer from the Netherlands, gold medal winner at last month's first ever ANOC Worlds Beach Games, who says it will be much tougher to win in Abu Dhabi and had a message for young UAE wakeboarding enthusiasts.
"Winning gold is really important for an athlete but I don't know if winning here is possible," she said. "It's going to be very tough, and my win last month means I have already achieved my goal for this year. But I'm definitely not here to be last."
"Getting to the top in this sport is not easy, and the most important thing is to have fun. That's how I got better, by having fun with my friends. One friend would do something and I'd try it, but it didn't work, so I would keep on trying and we'd all keep supporting each other. That's the way you learn."
While warm sunshine gave way to grey skies and rain on the second day, the change in weather made no difference to the spirit and performance of the 150 athletes assembled in Abu Dhabi from 31 countries.
Australian Mackenzie McCarthy and Italy's Julia Molinari topped the Junior Women qualifying heats while Swiss Deborah Lutolf and Russian Anna Maria Kushkovskaya also moved through to Saturday's final.
German Sigrid Bachler dominated the Over 40 Veteran Women qualifiers to progress along with American Cathy Williams, Hong Kong's Kit Sum Ruby Lee and Man Yee Fiona Chan, New Zealander Charlotte Broadbent and Japan's Naoko Nishikado.
The Brazillian flair of Mariane Nep gave her top spot in the Over 30 Master Women qualifiers ahead of Japan's Mayiu Oyama, Britain's Sarah Partridge, Hong Kong's Zee Zee Hester Shiu and Nep's compatriot, Ailine Wafae.
Reaching Friday's Under 14 Girls final were Australian Sienna Curren, Mexico's Fernanda Gomez Crespo, Japan's Mio Nakagawa and China's Xiang Wang.
Hosted by Abu Dhabi International Marine Sports club, the five-day 2019 IWWF World Wakeboard Championships reaches a climax on Saturday.