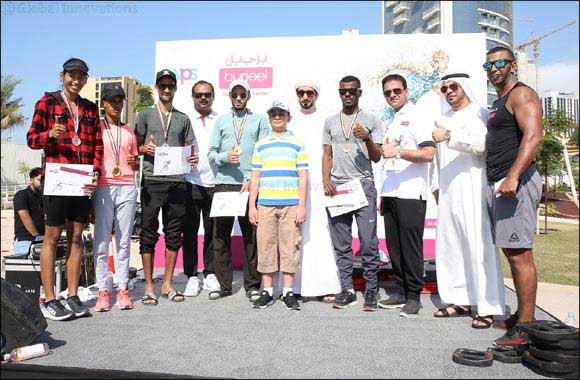 Abu Dhabi, United Arab Emirates 16 November 2019: In an attempt to raise awareness about diabetes, a common but life threatening lifestyle disease, hundreds of participants, including men and women, took part in a three-kilometer mini-marathon race held at Al Reem Island here on Friday. The #darediabtes race organised by Burjeel Day Surgery Centre in association with Burjeel Medical City and Aldar Group was flagged off by John Sunil, the Chief Executive Officer (CEO) of Burjeel Hospital.

The mini-marathon race organized to mark the World Diabetes Day observance also provided complementary health checkups to all the participants. A slew of other physical activities was held as part of the one-day event at Reem Central Park. Dozens of families including their children participated in the beach games, body pump & rpm sessions, healthy cooking show, obstacles course.

According to various reports, UAE is one of the leading countries where people are at the risk of falling victims to lifestyle diseases such as diabetes. A recent study held by Zayed Military Hospital had also come up with a shocking revelation that many among under-30 in UAE have possessed high risks to develop lifestyle diseases.

VPS Healthcare Chairman and Managing Director Dr. Shamsheer Vayalil said that preventing lifestyle diseases is a major challenge. "The number of people falling victim to lifestyle diseases such as diabetes is growing every year. As a responsible healthcare provider it is our duty that we educate masses. This is where awareness campaigns like this plays a crucial role, " he said.

Speaking at the event, Burjeel Hospital CEO John Sunil said that, "It is overwhelming to see that people are very keen about their health. It is very important that we design enjoyable and attainable exercise routines. The number of participants is itself a testament to this activity. We are grateful to all the participants and our partners for their support and cooperation in making this event a success. Being a Healthcare organisation, it is our endeavor to educate the community and support them with the ways about preventing these diseases and we encourage people to undergo regular check-ups to see whether the body functions are normal, he added.
Noaman Elassoui, hailing from Morocco and Rafraf Mohammed, from Ethopia, emerged as the champions of mini-marathon race in men's and women's categories; clocking at 08:17 and 11:04 respectively. While Samir Jouaher, from Morocco and Latifa Essarokh from France were the first runner-up, finishing at 08:19 and 11:13. Saud Alzaabi, a UAE national and Lydia Stalin, an Indian, became second runner-up, finishing at 08:44 and 12:14 respectively. All the participants, who completed the race, received a medal and certificate for their accomplishment.