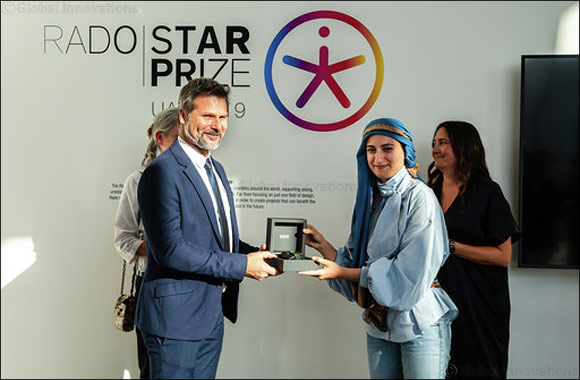 Dubai United Arab Emirates - November 14, 2019: At an exclusive event in the Design District Dubai on Tuesday 12 November, Rado and Dubai Design Week announced the winner of the first edition of the Rado Star Prize UAE. The Judges' Winner prize was awarded to Aya Charife and her project "Takyeef"
"What an honour to win such an award. The Rado Star Prize will allow me a foot in the door of the industry and I'm very excited about what the future will bring" commented Aya Charife, following the announcement.
Aya Charife, an upcoming artists from Lebanon received AED 20,000 and a Rado True Thinline watch as a prize for the winning project. Takyeef was selected from a shortlist of 5 designs, which each entry responding the theme design as something enduring, long-lasting and versatile.
The judging panel of high profile industry voices who selected the winner included Rawan Kashkoush Creative Director of Dubai Design Week, Suzanne Trocmé award winning Furniture Designer and Vice President Product Development at Rado, Hakim El Kadiri.
Rado's exhibition in the Dubai Design District will showcase the latest watches of the brand's key design-led collections until November 16, 2019.