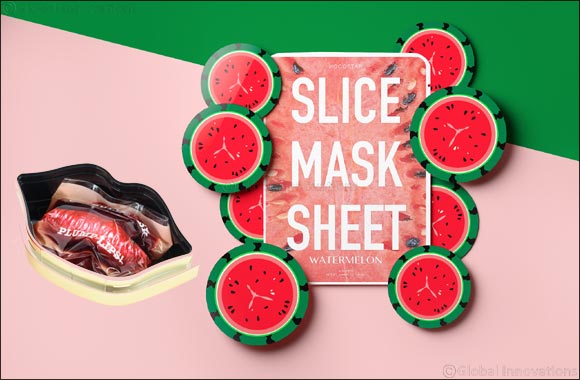 Dubai, United Arab Emirates - November 04, 2019: As the weather changes and we enjoy a cooler climate for the winter months, taking care of your skin is a must. And, what better way to do it than with the fun and innovative face masks from Kocostar. Say hello to slice masks, the most instagrammable face masks that don't just look good – they offer amazing results too.

The masks come in traditional sheet disks that include fruits, flowers and animal prints and after application, leave your skin with a luminous glow. Perfect to pop on before a night out or as part of your weekend self-care ritual, Kocostar's masks contain vital ingredients to revitalise and hydrate the skin.
With prices starting from just AED15, they also make the perfect stocking fillers for fellow beauty fanatics.

**Top Picks**
Kocostar Black Happy Mask (AED 15.75): Made from artificial silk and charcoal, this black mask cleans skin effectively and suits all skin types including sensitive ones. The cleansing mask contains Binchotan charcoal, known for its ability to extract dirt and excess oil from clogged pores. The unique material also helps push the active ingredients into the skin for maximum absorption and has a cooling effect on the skin while wearing the mask.
Kocostar Cherry Blossom Lip Mask (AED 147): This hydrogel lip patch is infused with botanical essences that will make your lips feel and look irresistible. It also contains rose water, which helps rejuvenate and fill parched lips for an elegant glow and plump effect.
Slice Mask Sheet - Watermelon (AED 15.75): Pamper yourself with these refreshing watermelon slices that provide instant hydration. The fabric is soft, thin and gentle on any skin. Not only does each slice provide abundant moisture, it also helps to calm the skin. The slice sheet masks add the fun to any skin care regime.

Kocostar Plump Capsule Masks - (AED 40 for 7 capsules): Kocostar has released their "Plump Lip Capsule Mask", promising to instantly exfoliate, hydrate and plump your lips. The mask contains small heart-shaped capsules, which you pop open to release the serum and then apply onto your lips using fingertips like a lip gloss. The serum will start working its magic within a few seconds, as you will start feeling a tingling sensation and your lips will instantly become more hydrated,
Kocostar masks are available in Virgin Megastores, Faces (Wojooh), Lifestyle Gulf and online on Namshi.com and Beautysolutions-me.com.