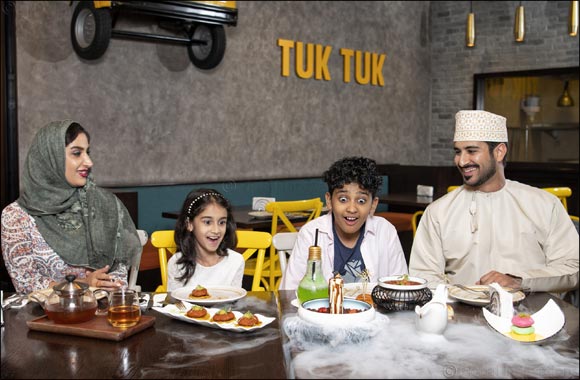 The mall recently added GANT, Rocomamas, Miniso, KIKO MILANO, and Kiehl's to its impressive list of tenants
Dubai, United Arab Emirates - November 03, 2019: City Centre Muscat, Oman's first and largest lifestyle shopping destination, has added to its already diverse offering with a number of recent new retail and restaurant openings. The new arrivals further strengthen City Centre Muscat's competitive advantage in the retail sector while elevating the shopping experience for discerning customers. The new tenants follow the opening of several other additional stores in February 2019.
The mall introduces a range of fashion, accessory and jewellery outlets. GANT, the leading American casual-smart brand, has opened, offering a wide range of high-quality on-trend clothing and accessories for men, women and children. Brand Bazaar is now offering multiple merchandise lines at variable price points. Local footwear brand Shoe Express has opened its doors with a range of shoe and accessory styles at affordable prices. Meanwhile, gold and diamond jewellery brand Jawhara will be soon to open.
For beauty and lifestyle offerings, Japanese brand Miniso, specialised in selling traditional food products as well as personal care and home products, is also soon to open.
Italy's professional cosmetics brand, KIKO MILANO will open its first store in Oman, when it launches in City Centre Muscat. Established in 1997, KIKO MILANO is one of the world's fastest-growing beauty brands with over 750 stores in 15 countries and an online presence in 35 nations.
Renowned makeup brand NYX will be opening soon and is joined by celebrated American cosmetics brand Kiehl's – known for its range of natural hair and skin care products.
Restaurants such as Rocomamas, famous for their artisanal style 'Smashburgers', Lebanese restaurant Habib Beirut, the bohemian-style Dose Café, and fast food restaurant Ali Baik will also join the broad F&B offering at City Centre Muscat in the coming months. The mall currently houses more than 30 restaurants and cafes that serve up a range of international cuisines from the Middle East, Europe, Africa and South Asia.
With the upcoming arrival of the coffee machines leader Nespresso in the coming year; joined by Blossoms, a florist shop; and Rawazin an Arabic bookstore, the mall will become a one-stop shop for customers looking for all their favourite brands.
The new store openings come at the perfect time for shoppers, as the recent arrival of the Autumn/Winter 19 fashion season at City Centre Muscat also brings with it a generous shop and win offer across the mall's brands. When shoppers spend 20 OMR at any City Centre Muscat store, they'll be entered into a weekly draw for a chance to win a gift card worth 1000 OMR. With four winners picked across four weeks, mall visitors can style themselves and scoop an exciting shopping spree until (November 2nd, 2019).
Husam Al Mandhari at Majid Al Futtaim – Senior Mall Manager – Oman, commented: "We are thrilled to be welcoming many new and exciting brands to the City Centre Muscat family, right in time for the Autumn Winter collection. Each store brings something unique for our customers. The latest additions align with our core values of providing choice, affordability, quality, convenience and exceptional service, which help us to continue creating great moments for everyone, every day."
City Centre Muscat is home to more than 200 international and local lifestyle brands, many of which have made their debut in the Sultanate.