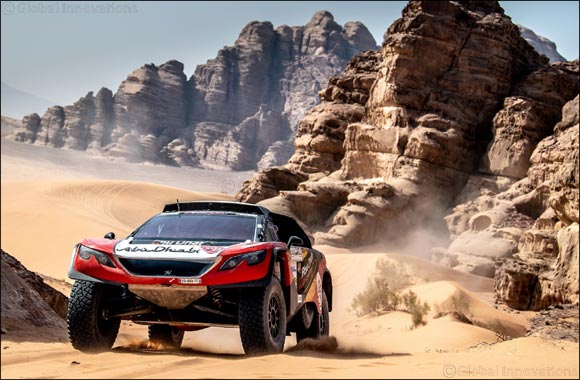 Relishing Abu Dhabi Baja test, Sheikh Khalid feels there has never been a better time for young enthusiasts to enter rallying
Abu Dhabi, UAE, 3rd November, 2019: Top UAE rally driver Sheikh Khalid Al Qassimi says the emergence of a new national off road series in the Emirates means there has never been a better time for young enthusiasts to enter the sport.
The vastly experienced Emirati driver, who lines up in the inaugural Abu Dhabi Baja later this month, is urging more young drivers and riders to grasp the opportunity created by the launch this year of the UAE Baja Championship.
"This is the perfect platform for people to come into the sport at entry level," said Sheikh Khalid, who
leads the T1 category after winning three of the first four rounds in his Abu Dhabi Racing 3008 DKR.
"Most of the events are one day, and they're open to bikes, quads and T3 cars (Side by Side or UTVs) which make the sport much more affordable. If you're looking for an opportunity to compete, this is your chance."
Taking place under the patronage of Abu Dhabi Sports Council on 15-16 November, the Abu Dhabi Baja forms the fifth round of the 2019 UAE Baja Championship which is organised by the Emirates Motorsport Club (EMC).
Previous rounds have attracted upwards of 50 competitors, and the EMC hopes for more entries from the UAE and the other Gulf counties in Abu Dhabi, with prize money offered in each of the T1, T2, Group S and UTV auto classes, as well as Motos 450, 250 and quad categories.
For Sheikh Khalid, who will be partnered by British co-driver Chris Paterson, the Abu Dhabi Baja presents another competitive test in his build-up to next year's Dakar Rally in Saudi Arabia.
He was runner up in the recent Rally Qassim in Saudi, finishing just ten seconds adrift of Yazeed Al-Rajhi after setting the fastest time on the final stage, while fellow Emirati Mohammed Al-Balooshi won the motorcycle category.
It was the second victory inside a month for Al Balooshi following his Jordan Baja win, and he will be looking to complete a hat-trick of victories in the Abu Dhabi Baja to extend his lead in the UAE Baja Championship Moto 450 class.
With a route twisting among that giant dunes of the Rub Al Khali, the Abu Dhabi Baja will be based at the Moreeb Dune facility with the backing of Liwa Sport Club.
From the rally base, competitors depart for two special stages amounting to 250km of competitive off road rallying, in a route totalling 280km in length, including liaisons.