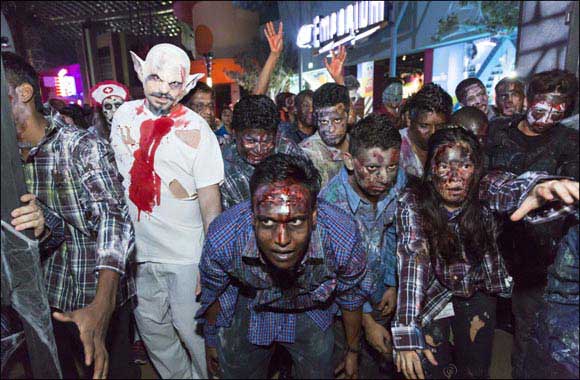 Go Spooky & Groovy with Festival of Fright

Dubai-October 22, 2019: IMG Worlds of Adventure, the world's largest indoor theme park has returned with the spookiest Halloween event "Festival of Fright" on 31st October, 2019. The park will shed its skin to reveal the haunted old tombstones and forbidden wasteland of nightmare offering all the guests a special ticket price of AED 125.
For guests wanting more chill than thrill, head over to the Cartoon Network zone for a grand entertaining part of Festival of Fright, which will be extremely frightening as the decorations are playing a great role in making a truly terrifying environment with giant cobweb, bats tied around, hay bales, dinosaur bones, bloodied handprints, a fountain with bloody water, hanging ghost, zombie mannequins, and a dark foggy environment plus thousands of pumpkins are placed all over the park. The main entrance of the park is decorated with huge size pumpkins to begin the horror journey after-hours entertainment starting with the world-famous and spine-tingling Zombies of Haunted Hotel. The Retail shops are ready with ghoulish treats and F&B with savory & sweet options.

In addition, all of IMG Worlds of Adventure's spooktacular rides and attractions will be available, plus much more with extremely frightening, gawky an outstanding bewildered dark foggy environment surrounded by more than 500 zombies petrifying Zombies roaming aimlessly around the park. A terrifying man-hunt will provide the most heart-stopping entertainment as guests make their way through narrow tunnels with darkness and suspense at every turn. With most dreaded guests, as despair and distress awaits victims that will be just one scream away from a gruesome demise. The Haunted Maze and the ghost-filled forest is a part of special addition, truly terrifying spookiest experience spans over IMG Boulevard zone with other freaky attractions including Creepy Graveyard. The walkthrough inside the graved will be a true survival challenge that will actually keep the guest horrified till the end.

The entertainment will include live music by DJ Blizz playing the best Halloween tracks, one of the pioneers of the music and nightlife scene in the Middle East, a Haunted parade and Zombie Flesh Flash mob will give guests an unforgettable experience. A special opening number has planned to begin the event along with dances performances in Lost Valley Zone, died Dino Meet and Greet, Zombie Parade, Halloween make-up station & Maleficent and Annabelle movie in CN theatre.
In addition, all of the IMG Worlds of Adventure's spooktacular rides and attractions will be available in the dark. The event is set to start at 8 pm until late-night fright till 1 am. Due to the terrifying nature of this occasion, this event is strictly for guests aged 12+. The tickets can be purchased onsite and online, available on www.IMGworlds.com.