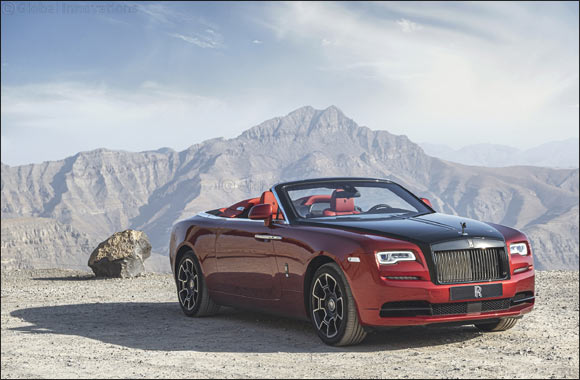 Dubai, United Arab Emirates - October 22, 2019: Bold, powerful, sophisticated and utterly adventurous, the Rolls-Royce Dawn Black Badge enjoys an unrivalled motoring supremacy that dominates the road, from city streets and highways to winding mountain routes.
The Rolls-Royce Dawn Black Badge dares to accept the challenge presented by the UAE's mountain drives, with the journey to the peak offering a stunning backdrop for driver and passengers to enjoy.

The excitement of being behind the wheel of the two tone Magma Red and Black Diamond Rolls-Royce Dawn Black Badge is unmatched thanks to the combination of imperious power, seamless grace and potent dynamism.
This route to the top of Jebel Jais in Ras Al Kahimah, UAE, was both demanding and beautiful, with the rugged scenery of the Hajjar mountains perfectly complementing the twisting roads and audacious power of the motor car for an experience that exceeded all expectations.
The combination of the Rolls-Royce Dawn Black Badge and the great outdoors was a 'double delight' for all the senses.