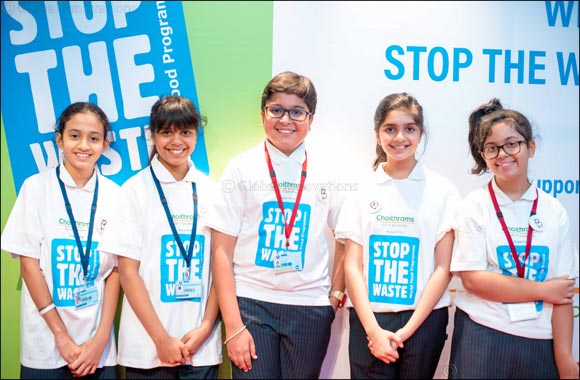 Choithrams joins United Nations World Food Programme to reduce food waste with #StopTheWaste movement in the UAE
Dubai, UAE, October 15, 2019: Choithrams, one of the UAE's oldest organised retail chains, today pledged its support for the United Nations World Food Programme Stop the Waste campaign, a global movement that aims to raise hunger awareness by asking the general public to be more conscious of their food waste – one of the fundamental steps towards eradicating global hunger. Ahead of World Food Day on October 16th, Choithrams joins entities and individuals from around the globe to pledge #StopTheWaste.
#StopTheWaste is a social media movement for change launched by the United Nations World Food Programme (WFP) globally and it aims to spotlight the critical issue of food waste and highlight simple solutions we can all adopt to prevent it.
In addition to the social media activation, Choithrams organized a special event at the brand's Al Wasl outlet in the presence of representatives from WFP and Choithrams, members of the community and the media. During the event, Choithrams customer and 12-year old campaigner Naisha Rajani issued an impassioned plea to stop food waste.
Naisha, said, "Wastage of food angers me, makes me sad. I have seen a malnourished child and her mother begging two years ago in India and that has changed my life. Please never forget what one piece of bread or a small meal which goes to dustbin can do for the hungry or needy. When millions are dying due to hunger, we cannot close our eyes. When children are dying due to malnourishment, we cannot forget that. I keep remembering that day from two years back and it breaks my heart."
Chefs of Choithrams joined in with their support. A food tasting tour was organised on the side-lines of the World Food Day event to showcase how leftover food can be turned into delicious dishes. The chefs shared smart food hacks that delivered tasty and nutritious outcomes using ingredients that would otherwise be thrown.
Choithrams Chairman Mr. L.T Pagarani said, "Our partnership with World Food Programme is an excellent example of how we have linked our work here in Choithrams with a global cause, creating a purpose in our business that goes beyond profit. So when we come together to raise awareness about something as important as food waste – we ensure our business becomes more efficient, we ensure our customers can choose and buy wisely and we ensure that our future generations live in a balanced world, where food waste does not exist."
"Time has come for us to take drastic action against food waste. Also, wasting food increases greenhouse gas emissions and contributes to climate change, " added Mr Pagarani.
"There is enough food to feed the world's 7 billion people, yet one in nine people goes to bed hungry every night," said Mageed Yahia, Director of the World Food Programme Office in the UAE and Representative to the GCC . "This is a problem that must be solved urgently if we are to achieve Zero Hunger by 2030. Everyone can play a part to #StopTheWaste. We count on the vital support of all our partners, like Choithrams, to help us achieve this ambitious goal," he added.
Follow these simple steps to pledge #StopTheWaste:
1. Search your fridge or pantry for a food item that is nearing its expiration date and safe to eat
2. Snap a selfie with your item (do not forget to eat it)
3. Share your photo on social using #StopTheWaste and challenge three friends by tagging them in your post
4. Take your pledge one step further by sharing your food waste recipes or host a dinner party and encourage others to do the same.