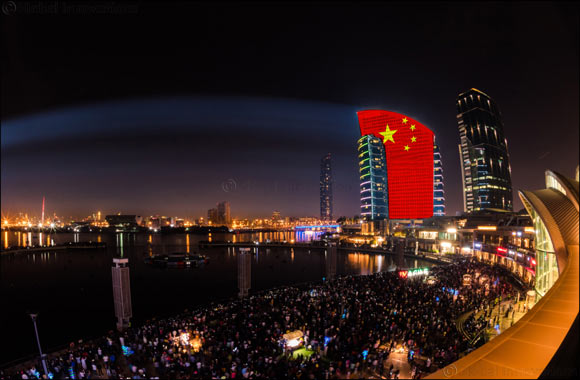 Dubai, UAE, 29 September 2019: Dubai Festival City Mall will join major landmarks in Dubai on Tuesday to celebrate the National Day of the People's Republic of China by projecting the Chinese flag on the InterContinental hotel. The day is a public holiday in the People's Republic of China to celebrate its founding in 1949 and is celebrated annually on October 1st.
Residents and tourists alike are welcomed to Festival Bay to snap pictures with the iconic IMAGINE show and the world's largest permanent projection mapping surface.
IMAGINE, the two-time record-breaking visual and sensory extravaganza, plays live every night on the iconic Bay and is free for all visitors. The truly unforgettable experience promises to enthrall every time, combining lasers, light, fire and water to tell remarkable, emotive stories. The state-of-the-art show seamlessly fuses technology and art and has earned two Guinness World Records for the largest water screen projection and the largest permanent projection mapping. IMAGINE uses surround sound to deliver a 360-degree story to emotionally connect with audiences and produce a show like never seen before. The multi-sensory, iconic, unmissable show must truly be seen to be believed, leaving a long-lasting impression on all that experience it and live the feeling that is IMAGINE.