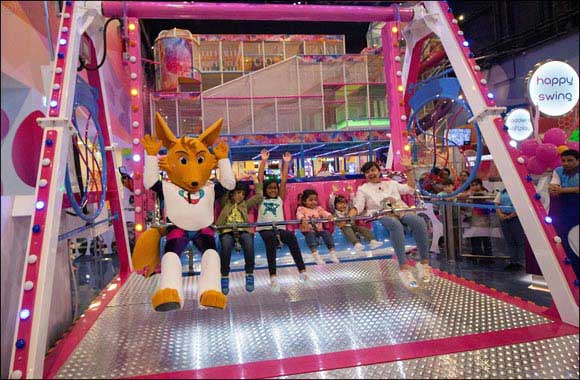 The 'futuristic' entertainment destination offers a variety of fun activity packages with scratch and win vouchers for families across its centres in the UAE.
Dubai – September 3, 2019: Fabyland, a diversified and 'futuristic' family entertainment centre, has launched 'Spin and Win' campaign for families across its centres in the UAE. The campaign will run until September 15, 2019 at Fabyland outlets located at Deerfield's Mall in Abu Dhabi, Dubai Festival City and Dragon Mart 2 in Dubai.
Fabyland is owned by Fun World International, a part of Saudi Arabia's major business conglomerate Al-Othaim Holdings.
As part of the 'Spin and Win' campaign, families can participate in special fun activities with scratch and win vouchers up on purchase of different packages. These packages include access to a variety of rides, games and soft play area including trampoline. The customers are provided one chance to spin the wheel with a package of AED 270; two chances to spin the wheel with a package of AED 375; and three chances with a package of AED 550.
Commenting on the initiative, Mr. Mohamed Attia, General Manager of Al-Othaim Leisure and Tourism, said, "We are happy to launch an attractive campaign for families and children at our outlets across the UAE. With this campaign, we strive to appeal to our value-oriented customers who plan to enjoy more hours of entertainment for their children. We offer an array of fun and exciting activities for children, teenagers and adults. We believe in providing quality space for children of different ages and abilities to play without barriers."
"With Fabyland's strategic locations, parents shopping with their children may look for an outlet for them in the form of indoor exercise and recreation. The entire activities and games at the Fabyland are hosted in a safe, clean, climate-controlled, supervised environment for kids," he added.
Fabyland presents an imaginative, challenging and fun environment, in which children can exercise, play and explore a wide range of activities. There are different sets of innovative rides including the XD Dark Ride, Tagaj, Speedway, Top Dancers, Jumping Monkeys, Jumping Stars, Happy Swing, Convey Ride, Climbing Wall and Drop N Twist.