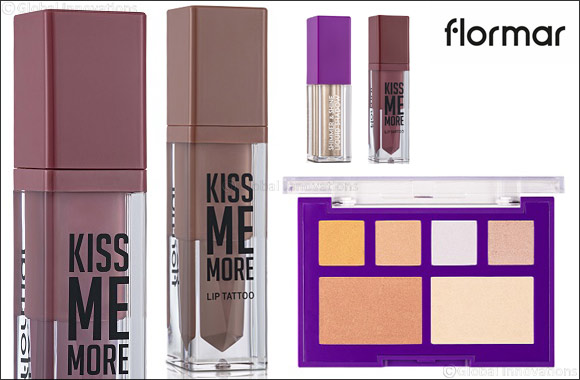 Dubai, United Arab Emirates - September 03, 2019: As summer comes to a close, fall beauty collections take center stage. Fall colors, vibrant and spectacular, will be all the rage, and beauty fanatics will stay loyal to the trends. Flormar has never failed to impress with their extensive colorful ranges, be it with their luxe matte foundations with rich consistency and thin texture, their easy-to-use eye products, or their long-lasting nail polishes.
Flormar has launched two new gorgeous ranges that stay on point with the dynamic beauty trends of the season: a colorful Happy Filter range, accounting for all things glitter and shine for the perfect on-camera look, and an extensive Kiss Me More range, promising pigment and staying power.
The Happy Filter range is designed to embody the happiness you feel when you are confident, and want to show the world that you're happy in your own skin. This fabulous new range includes almost everything you could want to spice up your make-up, at the same time keeping it classic-looking.
The Flawless Baked Powder and the Flawless Baked Blush – made to enhance your beauty with a silky finish. The Eye Strobing Pencil gives you a pop of shine and glides on smoothly. The Juicy Color Lip Oils are designed to hydrate and add color to your lips, while the Juicy Lacquer Lipstick intensify the color and sparkle. Not to mention the Mix N Match Nail Enamels and Top Coats, which will change the way you do your nails forever – with the flexibility to combine colors and topcoats to create your unique designs. Lastly, the stars of the show from this range -- and some of the fan-favorites -- are the Liquid Eye Shadows and the Strobing Palette:
Happy Filter Shimmer and Shine Liquid Eye shadow (AED 39)
The Shimmer and Shine Liquid Eye shadows in this range were designed to give you an intense and glittery shine on your eyes. The applicator makes it super easy to use, requiring just a single application for a great pay-off. A versatile and pocket-friendly product, this is perfect for creating the classic evening glam, or you can use it to experiment with your looks since you have four gorgeous shades to choose from – either way, who doesn't love glitter?
Happy Filter Strobing Palette (AED 60)
Highlighters and illuminators have been at the top of every beauty must-have list for years now, and their reign is not ending any time soon. The Strobing Palette from this range is packed with six different luminous shades, that you can use individually or combined to complete your make-up with a perfect glow. The beauty of highlighters is that they double up as eye shadows as well – a win-win!
Have you ever wanted to wear your favorite lipstick to dinner or a night-out, and worried that it might wear off too soon? With Flormar's new Kiss Me More range, you can throw your lipstick woes out of the window. This extensive range includes sixteen new shades of heavily pigmented, long-lasting Lip Tattoos, aptly named because they will not budge. This is a game-changer – you can eat the tastiest foods, drink your favorite drinks, and greet your friends with a kiss on the cheek, and your lipstick won't even fade! This range has it all – classy nudes to vibrant colors, to suit every occasion. Here are some of the top picks from this range:
Blush (AED 49)
Creamy (AED 49)
Doll(AED 49)
Intense (AED 49)
Mademoiselle (AED 49)
Peach (AED 49)
Rosa (AED 49)
Skin (AED 49)
Flormar's Happy Filter collection is available in all Flormar stores and Kiosks across UAE. The Kiss Me More Lip Tattoo collection is available in all Flormar stores and kiosks, Exquisite Stores and Lulu Hypermarket.