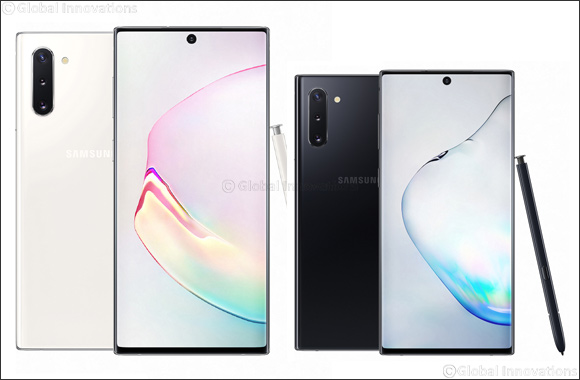 The most powerful Galaxy Note is now available at du in two unique sizes
Dubai, United Arab Emirates, September 2nd 2019: du, from Emirates Integrated Telecommunications Company (EITC) announced today that the all-new Samsung Galaxy Note10 is available at all du stores across the UAE. The new line of premium smartphones combine elegant design with powerful performance and productivity tools to help users make the most of every moment.
du is offering customers the chance to own the Galaxy Note10 with the telco's 24-month instalment option, starting form AED 140 per month. There will also be an attractive offer for du customers who avail the Note10 with the du postpaid power plans, in which they can double their data and get up to 100GB. Business customers can also avail the Note10 with exciting business plans and enjoy up to 106GB of National data.
Inspired by a generation that flows seamlessly between work and life, the Galaxy Note10 gives users the freedom to work the way they want and showcase their creative spirit, all on-the-go.
Pro-Grade Camera for Creators
With the Galaxy Note10, content creators and everyday users alike can use state-of-the-art tools to capture stunning video and photos—allowing their channels, stories and posts to stand out and make an impact. Featuring a combination of advanced imaging technology and software, the Galaxy Note10 elevates mobile videography and photography to the next level.
The Galaxy Note10 enables users to capture pro-grade video without having to carry around any extra gear. Live focus video adds depth-of-field adjustments so you can blur the background to focus on your subject. Zoom-In Mic amplifies the audio in frame and pushes background noise aside to help focus on the sounds that you want. And to remove the bumps and shakes that usually make an action shot blurry, new and improved Super steady stabilizes footage, and is now available in Hyperlapse mode for steady time-lapse videos.
Evolution of the S Pen
The S Pen now also supports intuitive gesture recognition with S Pen Air Actions so that you can always be completely in control. S Pen Air Actions let users take pictures, zoom in and out and switch camera mode with a simple gesture, as well as change content and volume in multimedia apps and manage PowerPoint presentations with ease and without the need of touching the device.
Premium Performance Features
For the first time ever, Samsung is introducing not one but two new Galaxy Note models. The 6.3-inch Galaxy Note10 is 0.1 inches smaller than the Galaxy Note9, and perfect for those who want all the power and performance that comes with the newest Note, but in a more compact form. The 6.8-inch Galaxy Note10+, meanwhile, is a full 0.4 inches bigger than last year's Note, and boasts the largest display that the series has ever seen.
The Galaxy Note10+ makes long charge times a thing of the past by adding upgraded Super Fast Charging (up to 45W) to a list of charging innovations that also includes Wireless PowerShare and Fast Wireless Charging 2.0.
This time-saving technology enables the device's 4,300mAh3 battery – the largest that the Note series has ever seen – to store a full day's worth of charge in just 30 minutes. So users can game, stream, browse, and even shoot and edit video with confidence, and without worrying about whether their battery will last through the day. Additionally, the Galaxy Note10+ comes with 256 GB and 512GB of built-in storage, with the ability to add an additional 1TB of external storage.
Galaxy Note10 is offered in Aura Glow, Aura White and Aura Black.