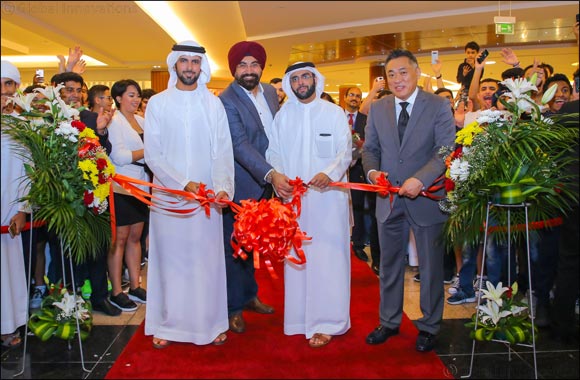 A new experience with a grand bowling alley, VR and sports simulator games, and a restaurant
Abu Dhabi; 26 August 2019: Dalma Mall, one of Abu Dhabi's iconic retail destination inaugurates Zeal Entertainment Centre, and introduced one of the most unique entertainment venues that marries sports, virtual reality, music and dining into an immersive and innovative social experience for family, friends and children alike.
The all new entertainment centre was inaugurated by Mr. Mohamed Al Mazrouei – Executive Director – The Developers holdings LLC, Mr. Bhupinder Singh – General Manager & CFO – Dalma Mall, Mr. Bobby Kwon – General Manager, Zeal Entertainment Centre. The opening celebration also witnessed the presence of popular Saudi gaming vlogger Bander (@BanderitaX) who later was seen interacting with his fans and followers who crowded the venue specially to see him.
Located on the second floor of the mall, Zeal spreads across an area over 35,000 sq.ft. The new entertainment zone at Dalma Mall implores the child in every guest, where they can joyously revel in an unmatched list of activities ranging from highly interactive simulators to many more thrilling and recreational attractions.
Offering world class simulation and proprietary gamification technologies such as unique racing and rollercoaster simulator rides, exciting arcade fun, pool table zone and a separate area for PC gaming experiences. The new entertainment center will also boast a state-of-the-art, twelve lane bowling alley that will feature the latest graphic technology.
Speaking on the occasion, Mr. Bhupinder Singh, General Manager & CFO, Dalma Mall said, "We are very excited to inaugurate our new family entertainment centre for the mall visitors. With an incredible sports offerings and stunning gaming attractions, Zeal will deliver truly enchanting experiences for the whole family. The ambience and the offerings will work together, allowing guests to make new discoveries and experience shared memories, while creating a destination to which they wish to return again and again".
With ground-breaking gaming ideas and novel dining concepts, Dalma Mall's Zeal is a perfect destination for fun and excitement. Along with fulfilled activities, guests can also indulge in the all new Fizz restaurant that serves a carefully crafted gourmet menu along with the grand terrace top shisha lounge featuring a spacious décor to meet all the socializing needs.
Zeal entertainment centre is open from 10 a.m. to 10:00 p.m. from Sunday to Wednesday and 10 a.m. to 12 a.m. on Thursday & Friday.
Along with entertainment centre, visiting guests can also shop from over 450 retail options and try over 60 international and regional F&B brands, all resting under one destination – Dalma Mall.