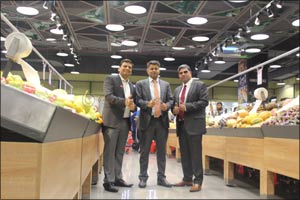 "Fairway – The Market", a joint Venture of KBBO - Group & Fathima Group of Companies opens its first store in UAE
Dubai – August 22, 2019: "Fairway – The Market" promises to deliver consistently superior customer service standards with high-quality, fresh, seasonal and flavor-focused foods and daily essentials. Fairway's unique concept of providing delicious experience to customers with preferred cuisine of live cooking, shawarma, grilled food, chaat & papdi counter, fresh juice, grilled sandwiches coupled with dine-in facility for family.
The market also focuses on Indian savories which are the must haves for festive celebrations and that is sure to appease the taste buds of food lovers. The store also features a roastery & spices counter, live bakery, delicatessen alongside imported and local fruits & vegetables, fresh meats & fish, arabic snacks and sweets.
Mr. Imran Khan, CEO – R Select inaugurated the outlet in the presence of Mr. Sunil Singh, Group CEO, "Fairway – The Market", Mr. Moosa Haji, Chairman Fathima Group of Companies, Dr. Sanjai George, CEO-Retail, Fathima Group of Companies and other senior dignitaries.
The market is located in City Life – Al Khor Mall, a landmark destination in the heart of Ajman and will serve residents in the vicinity and the surrounding areas as a one-stop destination for all shopping needs. The Group, with diversified businesses predominantly a chain of hypermarkets, supermarkets and department stores, is currently on a vast expansion mode. With the opening of the newest outlet, the Group reinforces itself firmly to the modern, customer-centric retail landscape of the region.
Mr. Sunil Singh, "Fairway – The Market" Group – CEO said, "Our outlets always provide the widest range of quality and value-for-money products all under one roof. We are committed to ensuring great service and convenience to all our customers. Due to the availability of an extensive product line, our markets are popular among the local and expatriate communities".
Mr. Imran Khan, CEO of R Select, commended Fairway on the inauguration of their new outlet stating, "We express our sincerest congratulations on Fairway's grand opening and welcome them to City Life Malls. We pride ourselves on partnering with likeminded businesses who value quality and customer service, and we wish them the best on their endeavors."
Mr. Singh reiterated his commitment for further expansion with various formats and reach in UAE and GCC.