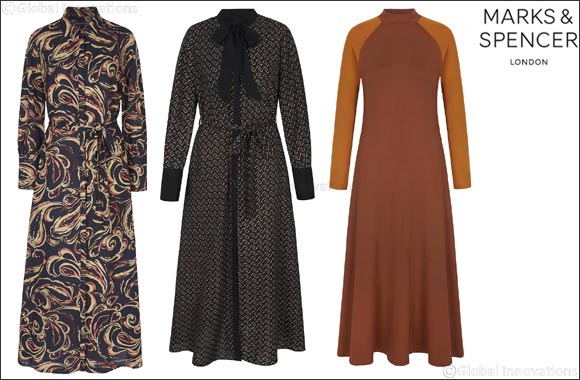 Dubai, United Arab Emirates - 19, August 2019: Marks & Spencer is delighted to unveil its new AW19 Modest collection to customers in the Middle East.
Elevated with new silhouettes, colour palettes and fun prints, as well as higher necklines and tailored hems, customers looking for stylish, yet Modest attire are guaranteed to find an array of beautiful looks. Better still, with a nod to some of the biggest trends this autumn, including 70s and folk inspired pieces, the capsule is a must-have for this season.
AW19 sees neutral and fiery tones from browns and amber to ivory and black, with formal tailoring championed. Essentials such as culottes in navy blue and copper tan make gorgeous office staples, while the Tie Neck Maxi Shirt Dress pairs wonderfully with the Soft Viscose Waistcoat from the collection, creating the ultimate evening look.
Contemporary wardrobe essentials adorned in retro prints – think stylish kimonos to maxi shirt dresses are also celebrated this season. The easy-to-wear items have been designed to mix and match, helping to complete any look. And the garments are enriched with Cool Comfort™ technology to keep cool and comfortable from morning to evening.
The new season also calls for the Tie Neck Blouse, perfect to wear with jeans for a dressed down look or dressed up with a flowy maxi skirt. Plus, essentials are reworked with new fabrics and colours, adding extra fashion kudos to any outfit.