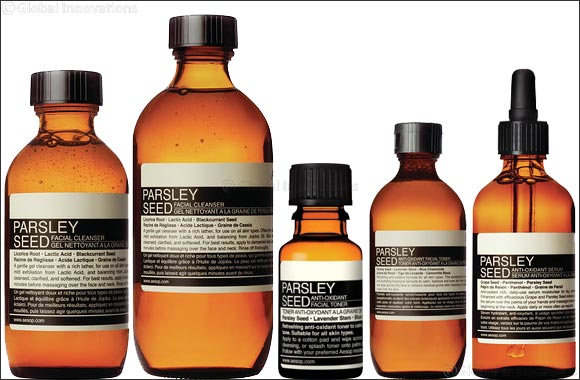 Parsley Seed Anti-Oxidant Skin Care
Lightweight fortification against urban pollutants
Dubai, United Arab Emirates - 17, August 2019: Aesop's Parsley Seed Skin Care range provides lightweight, rapidly absorbed anti-oxidant fortification suited to most skin types, and offers ideal daily solutions for those residing in hot and humid climates, and polluted urban environments.
The range is the result of extensive research and development into the most effective way to deliver vitamins and anti-oxidants to the skin.
Each product contains Parsley Seed extract – an ingredient that has significant fortifying and restorative benefits for the skin.
Parsley Seed formulations not only perform to the highest standard, they are also a sensory delight. They can be used in combination with one another or with other Aesop skin care classics.
Parsley Seed Facial Cleanser: gentle gel-based formulation that removes surface impurities and effects mild chemical exfoliation. RRP: 100mL £25.00 • 200mL £39.00
Parsley Seed Facial Cleansing Oil: gentle cleanser that activates with water for easy removal of grime and make up.
RRP: £39.00
Parsley Seed Cleansing Masque: clay-based deep-cleansing formulation for most skin types. RRP: £27.00
Parsley Seed Anti-Oxidant Facial Toner: anti-oxidant-rich toner to soothe, balance and provide an initial layer of hydration.
RRP: 100mL £27.00 • 200mL £43.00
Parley Seed Anti-Oxidant Serum: concentrated Aloe Vera-based serum to hydrate, soften and fortify the skin.
RRP: £45.00
Parsley Seed Anti-Oxidant Eye Serum: lightweight, vitamin-rich serum formulated to hydrate, nourish and fortify.
RRP: £55.00
Parsley Seed Anti-Oxidant Hydrator: lightweight, rapidly absorbed facial moisturiser that delivers superb anti-oxidant hydration.
RRP: £43.00
Parsley Seed Anti-Oxidant Eye Cream: rapidly absorbed cream rich in Vitamin E. RRP: 10mL £59.00 • 60mL £205.00
Parsley Seed Anti-Oxidant Facial Treatment: high-potency oil rich in fatty acids, to leave skin feeling intensely hydrated and replenished.
RRP: £39.00
Parsley Seed Anti-Oxidant Kit: six favourites suitable for normal, combination and dry skin types.
RRP: £210.00