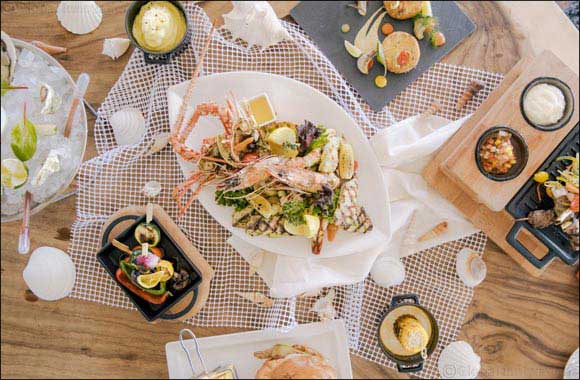 Le Meridien Al Aqah Beach Resort, Fujairah
Address: Anajaimat - Dibba Rd - Fujairah
Phone: 09 244 9000
Fujairah's famous surf-and-turf restaurant is ready to perk up your summer
Dubai, United Arab Emirates - 15, August 2019: Soak in summer days with golden sand, blue waters and tasty eats at Gonu Bar & Grill, Le Méridien Al Aqah Beach Resort's popular beach-front restaurant. Combining its much-loved seafood with exotic flavours, diners at Gonu can enjoy a plateful of seafood paella, for just AED 40! Prepared with traditional ingredients and loaded with the finest selection of crustaceans, and assorted shellfish, the fragrant paella promises an indulgent Friday lunch at Gonu.
With recommended grape or hops pairing, for AED 60, and the ultimate serving of seafood paella, the culinary maestros at Gonu promise to make the hottest summer months of July and August an absolute delight.
That's not all, Gonu's menu now includes a seafood platter including Omani lobster, jumbo prawns, calamari and a sustainable catch of the day with two side orders for just AED 375, prepared to match the specifications and preferences of seafood lovers! The surf-and-turf eatery is also rolling out a special seafood promo for a pint of shrimps at AED 69.99 on Fridays and AED 5 per oyster, daily from 5pm till 7pm.
With Le Méridien Al Aqah's exciting Summer Stay promotions, from May 1 till the end of September, offering Marriott Bonvoy members a 25% discount on room bookings, F&B, spa and other excursions, make a reservation at the luxury beach resort to experience the breath-taking beauty of the UAE's East coast with flavoursome dishes that are as fresh as they are satisfying.