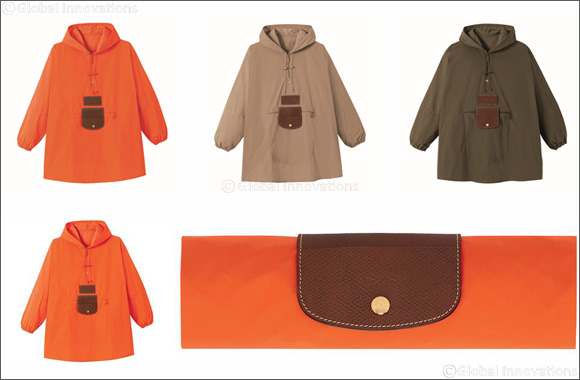 AN EXCEPTIONAL COLLABORATION FOR 30 YEARS OF ANDAM
Dubai, United Arab Emirates - 28, July 2019: 2019 marks the 30th anniversary of ANDAM (Association Nationale pour le Développement des Arts de la Mode), whose mission is to reveal and support the fashion talents of tomorrow. The annual ANDAM Fashion Award is among the most prestigious in the industry.
As one of ANDAM's principal sponsors, Longchamp – alongside other major names including Chanel, Dior, Chloé and Swarovski – has teamed up with a recent ANDAM award-winner for a special 30th-anniversary collaboration which will be showcased in the Galeries Lafayette department store on boulevard Haussmann during Paris Fashion Week in September.
For this exceptional initiative, Longchamp partnered with Stéphanie d'Heygère, winner of the 2018 ANDAM Accessories Award. For her first foray into fashion, the gifted young designer created an extraordinary hybrid, unisex piece: a belt bag and raincoat inspired by Longchamp's iconic Le Pliage®.
Her design playfully reinterprets the codes of the famous holdall to create a stylish cover-up that can be rolled up and slipped through a belt, then taken out and pulled over your head in the event of a downpour. When rolled, it is secured – just like Le Pliage® – with a Russian-leather flap, which also conceals a roomy zipped pocket when the coat is worn. A small pocket within the flap is ideal for tickets, a transport pass or a credit card, while a Russian-leather label embossed with the D'HEYGERE signature doubles as a belt loop. Available in five colours – black, red, beige, khaki and a stunning emergency orange – the design displays not only the refined detailing (tone-on-tone zips, gold-colour press studs) associated with Longchamp, but also the celebrated ingenuity of Le Pliage®.
Stéphanie d'Heygère was delighted to be offered the opportunity to work with Longchamp and its Creative Director Sophie Delafontaine. "For me, Le Pliage® represents Longchamp," she explains, "and my brief was to reinterpret it, but not in the form of a bag. It was fundamental to me that my design had a purpose, a true raison d'être, and I quickly hit upon the idea of a raincoat. For my own brand, I draw inspiration from clothing to design jewellery and accessories – a bum bag from a shirtsleeve, for example – but this is the first time I have been inspired by a bag to create a piece of clothing."

Sophie Delafontaine, meanwhile, describes Stéphanie d'Heygère as a perfect match for Longchamp because of her ability to twist everyday items and play with functionality. "We asked the question: 'What would Le Pliage® be if it were a garment?' And Stéphanie has answered it to perfection," she says. "What's wonderful is that, like Le Pliage®, her design is both useful and universal. It can speak to anyone, anywhere."
The Longchamp x d'Heygère collaboration will be unveiled at the ANDAM 30th anniversary celebrations on 4 September 2019. A limited number of pieces will be available at Galeries Lafayette Haussmann, the Longchamp Paris flagships on rue Saint-Honoré and the Champs-Elysées, and selected Longchamp stores in Japan.