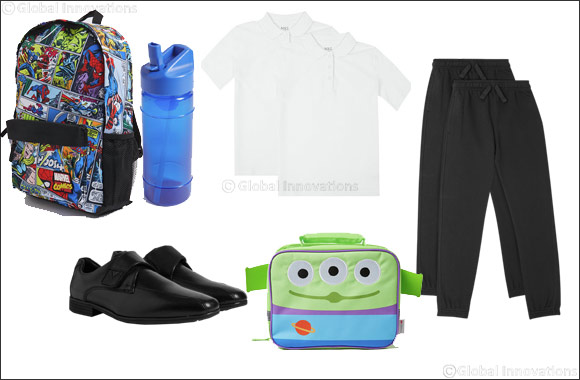 July 08, 2019 - Dubai, UAE: With back to school already upon us, take the stress out of shopping with Mark & Spencer's new back to school range to ensure a memorable and comfortable start to the new school year. From skirts to shorts, shirts to sportwear, and don't forget the shoes, socks and accessories too, Marks & Spencer's school uniform is packed with clever technology. So, whether it's a windy day or short-sleeves weather, the uniform will work (and play) as hard as they do, wear after wear.
Not only is the retailer a one stop shop for all those back to school needs from uniforms to shoes to lunchboxes and bags, Marks & Spencer offers shoppers schoolwear that can be washed time and time again without compromising on quality. Better still, parents can enjoy affordable options across the collection, including crisp white shirts starting from AED 95, paired with trousers from AED 110, as well as cute gingham pleated dresses at AED 70 and new shoes from AED 45. Whether children will be making their way through the gates for the first time or are set to start their last year of school, Marks & Spencer will ensure they look the part while parents get the best value for money on school wear.
The collection includes clever innovations such as StainAway™ – a technology that uses a unique fabric treatment which works to resist and release stains across all school wear shirts. Plus, the unique StayNEW™ technology, makes rich cotton jumpers and cardigans look newer for longer, while softer elastic waistbands on trousers and skirts, alongside hidden labels in shirts and polos are perfect for extra comfort. In addition, the Freshfeet™ Technology used in children's school shoes, ensures kids will be left feeling cool and odour free all-day long.
And that's not all, new pieces added to the collection this year include plain white cami vests without the trim, leggings, a hooded sweater and a breasted pinafore.
Marks & Spencer also has a colourful range of school lunch boxes, including Toy Story™ themed, while its Thinsulate™ Technology keeps food fresh and cool and wipe clean lining makes it easy to keep kids lunch boxes in pristine condition.
This year, Marks & Spencer has everything children need to go back to school in style, with clothing and accessories that will keep them satisfied all year round.
Promotion - Marks & Spencer is offering an exclusive online promotion for their Back to School Range. Enjoy stress free shopping with 20% off the entire online range between Friday 9th August to Sunday 18th August!
Shop the collection in store and online today at www.marksandspencer.com/ae