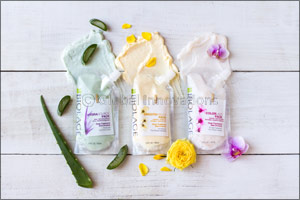 July 07, 2019 - Dubai, UAE
Biolage is the brand that's all about beauty with a heart. It's about naturality, because nature does it best; about sustainability because, what's 'good for you' should be 'good for the planet'. It's about honesty in everything, and about a healthy, holistic approach to beauty. So when there's a buzz in town about the launch of Biolage's three, new Deep Treatment Masks, you know it's going to be a game changer for your hair!
Each new Deep Treatment Mask is the very first highly concentrated mask from Biolage. The main ingredient is plants, which makes each mask a nature-based powerhouse of goodness for everybody – whether your hair is damaged, dry or coloured – adding a boost of shine, softness, moisture and health.

There's HydraSource to revive, dry stressed hair with the goodness of aloe vera, ColorLast, to protect and moisturize coloured hair with the properties of camellia flowers, and SmoothProof, to nourish frizzy hair with the power of orchid flowers.
Each carefully curated deep-treatment is an indulgence of textures, fragrances and ingredients that work beautifully and effectively together. The special intensive formula of each mask goes to work in-depth, so you need to use less than you would with a normal mask. Which one will you pick?
A great, relaxing weekend ritual to perk up dry, tired hair is HydraSource – the deep treatment hydration pack. Using the deeply rich, moisturizing benefits of the aloe vera plant, Hydrasource revives and nourishes parched, tired hair, leaving it undeniably soft, strong and silky, up to 89% more nourished. When your colour-treated hair needs energizing care and a touch of protection, ColorLast is the one to choose. It uses the gentle power of camellia flower to balance and replenish moisture, helping to keep your colour vibrant and true, while leaving your hair stronger and 71% less prone to breakage. Ideal before a blowout is SmoothProof, with the soothing goodness of orchid flower to calm and tame frizzy, unmanageable hair. Deeply nourishing, it adds manageability and definition to hair while protecting it from humidity, adding three times more moisture. Goodbye frizzies, hello deep shine and super smoothness!
Biolage masks are available in the salon to buy for use either at the salon or at home. Once your hair concern is diagnosed, and a suitable Biolage deep treatment pack prescribed, use the pack on towel-dried hair after shampooing. Squeeze a small amount of the treatment on to hair, section by section. Using a downward twisting motion, smooth the application evenly throughout, leave on for three minutes, rinse and voila!
Hair masks are the biggest trend in hair care right now, because those in the know love the convenience, and the instant, efficient results that masks can give. Biolage masks are small, easy to carry and efficiently and beautifully packaged. The plant-based formulas go to work straight away, with results you can feel, touch and see. Your hair feels stronger and healthier, is touchably soft and looks refreshed and revived, drenched and shiny with balanced hydration. Biolage's new Deep Treatment Masks, packed with goodness for everybody. Which one will you try first?