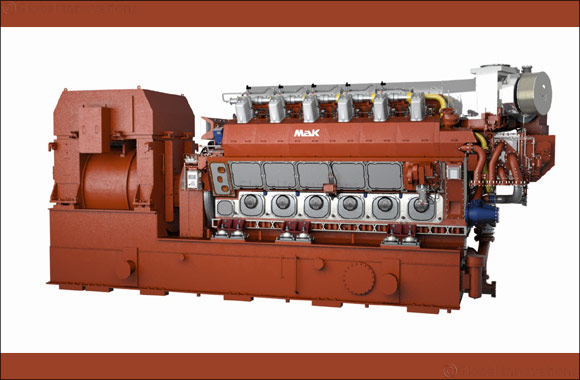 LNG engines and digital power optimization
The company's environmentally friendly solutions are also cutting clients' costs by driving down fuel consumption
Dubai, United Arab Emirates - 24 June 2019: MaK Middle East LLC, established in Dubai in 2017 as the factory direct parts and service arm of parent Caterpillar Motoren has announced the next level of MaK branded eco-friendly and fuel efficient maritime propulsion system with its industry-leading LNG engines. Relying on Caterpillar's many years of experience with gas as a fuel for land based power, MaK dual-fuel marine engines have successfully penetrated the maritime market, driving the industry's adoption of gas technology.
Alan Naisby, Managing Director of MaK Middle East and MaK Asia said, "After much deliberation by shipping companies, LNG is now regarded as a bridge technology. Caterpillar's known history of research and development with dual-fuel technology has allowed us to transfer much of our know-how to marine engines. Together with the IMO's mandate for reduction in global emission limit on the seas, these have been the key drivers in the success of our LNG-fueled MaK engines."
Growing population
Caterpillar Motoren's addition of dual-fuel engines to its portfolio of MaK marine diesel engines was in the works even prior to MaK Middle East's inception as a regional service provider. With Caterpillar Motoren initially designing, manufacturing and supplying one of its patented VM 46 DF (dual fuel) engines to both the AIDAprima and AIDAperla cruise ships, this laid the groundwork to fully power the next generation of cruise ships including AIDAnova with 4 x VM 46 DF (dual fuel) engines, making that vessel the first in the world able to operate solely on LNG, drawing fuel from onboard tanks. Currently there are nine cruise ships on order to be delivered with MaK dual-fuel engines.
Naisby stated, "In the cruise ship application, the 4 x VM 46 DF (dual fuel) engines provide 53,150 HP using computer-controlled fuel injection technology to enhance fuel economy. They also drastically reduce emissions given their ability to emit virtually no soot or sulfur oxides and far less NOx and CO2 than those that burn diesel. In the increasingly emissions-sensitive cruiseship market segment these engine characteristics have led to some 37% of new cruise ships on order being designed with VM 46 DF (dual fuel) engines"
He further added, "The appeal of our LNG-powered engines includes their ability to start and run on gas versus diesel, meaning ships can leave the dock or harbor in cleaner-burning mode. Additionally, the ability to operate on gas for extended periods in low load when only a fraction of the full power of the engine is required. These are both key features for cruise lines operating in heavily populated or environmentally sensitive areas."
Due in large part to its eco-friendly solutions, the MaK brand has been established as one of the top engine brands in the medium-speed propulsion market globally. The MaK M 46 DF (dual fuel) based propulsion unit comes as an in-line engine with six to nine cylinders and as a V-engine with 12 to 16 cylinders. Moreover, the MaK product line also includes the M 34 DF (dual fuel) engine, the M 20 C, M 25 C, M 32 C and M 43 C MDO/HFO propulsion engines and related marine generator sets that can be used in all commercial marine applications.
Technological Excellence
While Caterpillar Marine's product offering of green MaK solutions has effectively allowed the company to improve emissions and its clients' fuel consumption, system design technology has also played a major role in this area. Its hybrid propulsion system, comprising of MTA 628 azimuth thrusters and full electrical integration, mode selection and automation, allows vessels to operate mechanically, electrically or as a combination of both. This has served as a solution to make zero-emissions operation possible in tug and offshore applications.
In addition to decreasing fuel consumption, Caterpillar Motoren's technological expertise also ensures lower emissions, optimal maintenance, increased reliability and a reduction in overall costs. Naisby commented saying, "When it comes to clean, efficient, environmentally friendly operation, the cruise industry is leading the way. MaK Middle East and parent Caterpillar Motoren are proud to play a role in making more sustainable shipping a reality."