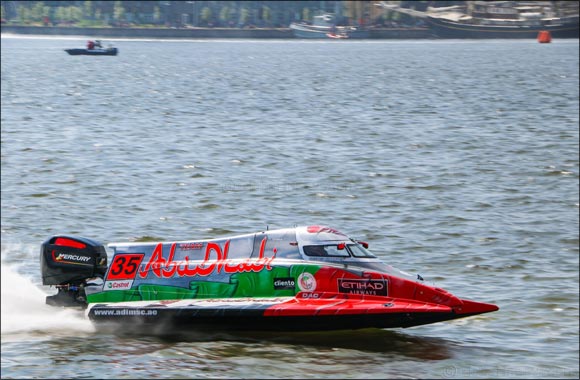 Team Abu Dhabi duo return to F2 action after world endurance triumph
Abu Dhabi, UAE, 23 June, 2019: Team Abu Dhabi's Rashed Al Qemzi launches his bid to reclaim the UIM F2 World Championship title next weekend in Lithuania, where the Emirati made a breakthrough in international powerboat racing two years ago.
It was on the Kaunas Reservoir in 2017 that Al Qemzi followed up a brilliant pole position with victory in the Lithuanian Grand Prix on his F2 debut, a result which laid the foundations for his championship triumph.
He will be joined again in this season's opening round by Rashid Al Tayer, less than two months after the two Emiratis combined with Shaun Torrente and Tullio Abbate to give Team Abu Dhabi a superb World Endurance Championship victory in the 24 Hours of Rouen in France.
Al Qemzi, who lost his F2 title last season to Alberto Comparato, finished fourth to the Italian in Lithuania where Al Tayer was in contention in a powerful line-up of 28 boats before crashing out of the season opener.
Another strong entry of 24 drivers from 14 nations is assembling in Kaunas, and the Team Abu Dhabi duo will be well aware of the threat from Lithuania's Edgaras Riabko who finished runner-up in his home event last year.
With last season's race winner, Comparto, now contesting the F1H20 championship, his title-winning boat will be raced by American Brent Dillard. Action begins with free practice at 11am on Saturday ahead of Sunday's Grand Prix getting under way at 3pm.