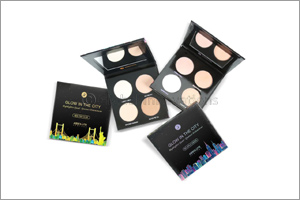 It's difficult to strike a balance between modern and unique in the beauty world these days. And with beauty trends evolving so quickly, we can find it hard to keep up. Plus, the routine beauty practices can get a bit tedious for us all.
Absolute New York is a brand that embodies that balance between modern and adventurous. Offering all the essentials and necessities, Absolute New York's ranges allow you to experiment with your makeup, finding your own perfect combinations of unique and modern. Their mission is to offer women the right products to design and enhance their own beauty, all while staying in tune with the global beauty trends.
If you're looking for a brand to satisfy your beauty needs and wants without breaking the bank, look to Absolute New York. Below are some fan favorites that have been tested time and time again to prove their worth:

HD Flawless Powder Foundation (AED 49)
A lightweight, airy foundation powder that blurs pores and can be built to cover the imperfections on the skin. Despite the buildability, it does not layer on heavily, and has a natural, radiant finish. It is formulated without parabens, phthalates, sulfates or fragrances, and is vegan and cruelty-free. The product comes in seven diverse shades, to suit every skin type and tone.

Super Slim Eye Brow Pencil (AED 36)
Convenience is a must with our beauty products these days, and this gem can be the very thing you need to add to your beauty essentials. A dual-end retractable fine-tip pencil is perfect for creating the finest of strokes to imitate hair. It is long-lasting and highly pigmented, while achieving a natural finish. It is formulated without parabens, phthalates, sulfates or fragrances.
Glow in the City Highlighter Palette (AED 69)
Highlighters are still all the craze and for good reason. This product is ideal to enhance the natural radiance, with a lightweight formula and smooth, shimmery finish. Inspired by the city that never sleeps, it has four diverse highlighters, that you can wear individually or layer to create your unique glow.
Icon Eyeshadow Palette (AED 74)
An eyeshadow palette that holds all the necessary shades you need to create a modern and chic look. With 12 shades and four variants, this palette is a must-have for your beauty cupboard. Packed with mattes and shimmers, any glam is possible! It is formulated with Kaolin Clay to ensure easy and smooth blending. Minimal fallout, and maximum pigment – this palette is a keeper.
Chic Cheek Blush Duo (AED 39)
Two is definitely better than one, and that goes for blush too. We all love to keep our options open, and this blush duo from Absolute New York is ideal for that purpose. With two beautifully pigmented hues that can be worn on their own or blended together for a perfect combination, this blush will go on smoothly, and will not highlight your skin's natural texture.
Metallic Matte Lipsticks (AED 39)
Goodbye dry mattes, and hello metallic! Metallics are trending right now, and the best part about them is that they can double as an eye product as well. Absolute New York's Metallic Matte Lipsticks are heavily pigmented, but apply as smooth as butter. They come in different shades and tones, and are easy to layer as well. If you're a beauty trend follower, these lippies are ideal for you.