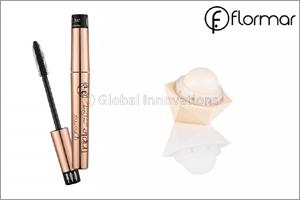 Dubai, United Arab Emirates - 19 June 2019: Summer is undoubtedly here, and we're ready to up our beauty game, one product at a time. With temperatures and humidity on the rise, our skin would be happiest with simple, lightweight makeup. And for all the memories we'll be making this summer, we would want our skin to look nothing less than radiant in the pictures!
So for all the summer beauties out there, these hotties are just for you.
Let your skin breathe with a lightweight foundation, or a BB cream
This summer, we're letting our skin breathe, but in a made up, glamorous kind of way. Ditch the layers upon layers of foundation, and embrace the wave of dewy, glowy skin. If you lean towards foundations and being able to build coverage, try Flormar's Stay Light Foundation (AED 64.95). It's perfect for all skin types, goes on smooth and effortlessly on the skin, and achieves a natural finish. It has SPF 15 in it too, for the extra protection your skin needs this summer.
BB creams are also a fantastic way to feel like you're wearing next to nothing on your skin, but still looking fresh. Flormar's Normal BB Cream (AED 42) has a weightless formula, designed to be worn on its own, or under a foundation. There are two other variants of this product: Anti-Blemish and Mattifying. Something akin to a tinted moisturizer, this product could be the special addition to your makeup routine. It has added SPF 15 protection as well, so you don't have to worry about sun damage.
Open your eyes to a fabulous mascara!
If we could just say something cliché here: your eyes are the windows to your soul. So you have to make sure they're framed beautifully with the right mascara. Flormar's Triple Action Mascara (AED 68.25) is all you're going to need to lift, volumize and thicken those lashes in a jiffy. Use this mascara in three different ways, to curl, lengthen and extend the lashes, and separate the lashes every step of the way.
Brow chicka wow wow!
Beauty fanatics world over have been brow-crazy for a couple years now, and rightly so. Brows are so important to frame your face, and add a bold stroke to your makeup. Flormar's Eyebrow Design Kit (AED 68.25) is the easiest product to use to fill in your brows. The small brush and tweezers lets you decide how much you want to fill them. Bold brows aren't going out of fashion any time soon, so join the club!
Bronze and Highlight – the perfect duo
It seems a little redundant to use bronzer in the summer, considering most of us are out getting a tan naturally. If you're one to want a perfectly tanned, bronzed goddess look though, Flormar's Bronzing Powder (AED 38.99) is essential to add to your makeup routine. The versatility of the product will help you achieve that glowing tan you see on the models in magazines!
You're mistaken if you think we've forgotten about highlight. Highlight is crucial to adding that bit of radiance and shine to your face. With Flormar's Baked Powder (AED 68.25), you can embody the word "glow". This stellar product goes on super smoothly, and will have you turning heads with its intense pigmentation. Give it a glow!
Fix it or ditch it
Humidity and impurities in the air will likely have us melting our beautifully made up faces off. Why put in all that hard work and end up looking a sweaty mess? Flormar's Makeup Fix Spray (AED 54.60) is your knight in shining armor for long-lasting, sweat-proof makeup. Give this a couple spritzes on your face after your makeup application, and throw your melty makeup worries out the window.
Pucker Up
Save the heavy lip for the winter. This summer, we're embracing the sheer and subtle gleam that can only be achieved by a good lip balm. Flormar's Care 4 Lips Lip Balm in Caramel Bar (AED 26.25) can be the product to round off your makeup nicely. Wear your favorite lip color underneath this, or on its own – either way, your shine can't be dimmed.
Flormar products are available across Flormar stores in the UAE.