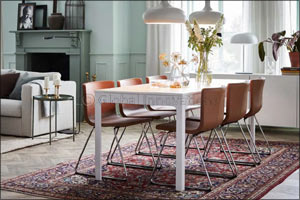 United Arab Emirates, 29th May 2019: Families are at the core of IKEA's business: old and young, traditional and modern, by birth or choice. In the UAE, IKEA faces a challenge to be relevant to all of them, due to the population being composed mostly of expats. To show that IKEA has relevant solutions for all cultures, the brand launched the 'Real-Life Series', where it recreated rooms from some of the most popular television shows. The series was designed to serve as inspiration to IKEA's diverse audience and demonstrate the variety of ways its furniture and solutions could be used.
The Swedish brand chose three of the of the most iconic family rooms on TV – Friends, The Simpsons and Stranger Things – and tasked a research team to replicate them, using IKEA furniture only.
To complete the rooms, thousands of items were collected from IKEA's catalogue and website to find the perfect furniture for these iconic spaces. After a two-month search, the final pieces – as similar as possible or identical to the TV shows spaces - were chosen. The selected items were then sent to a 3D studio which seamlessly integrated IKEA's furniture to the iconic TV living rooms. Each room, meticulously put together, then became a print ad and POS poster that created visually striking versions of the living rooms, made for real families in the real world.
Vinod Jayan, Managing Director – IKEA UAE, Egypt and Oman, said, 'The Real-Life Series truly embodies the IKEA mission to create a better everyday life for the many people. We wanted to show all our customers here in the UAE how they could bring to life the iconic living spaces they see in their favourite shows. Like the selected television shows, IKEA appeals to the many, regardless of their background or living situation."
The IKEA Real-Life Series is currently being expanded beyond print as the brand goes through an exciting digital transformation, entirely focused on creating seamless digital experiences. A new website has just been launched with more content and new features, where users can find more inspiration and rooms, including the ones from the Real-Life Series campaign. The IKEA Real-Life Series will also come to life on the brand's social media channels, catalogues and at a live event, where the three iconic rooms will be recreated in IKEA stores in the Middle East allowing people to visit the fictional spaces they love to watch on TV in real life.