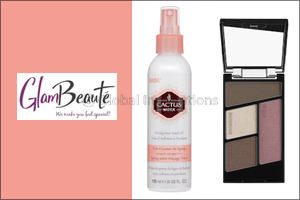 Dubai, United Arab Emirates - May 28, 2019: We are hitting the hot 40s, and that calls for a revamping of our head-to-toe beauty care routines. Regardless of whether you're staying indoors or braving the temperatures outside, it's important to maintain the right regimen for your hair and skin.
We've picked 10 must-have beauty products that will help you look and feel your best this summer and that are perfect for your travel bag:
Flormar's Bath and Body Collection Body Mist (AED 30.45)
If the summer temperatures have got you feeling dull and tired, give yourself a spritz with this little gem! Flormar's body mist is guaranteed to wake you up, have you feeling refreshed, and smelling divine. This one in Creamy Coconut is the perfect scent for summer.

Caviar of Switzerland All in One Cleanser (AED395)
This powerful one-step cleansing product is a cleanser, a make-up remover and a toner all in one. Micellar water is a skincare product that removes makeup and cleanses the skin, without the need for rinsing. It moisturizes and helps to reduce the three signs of sensitive skin: redness, tightness and dryness. Skin Protection, hydration, enhanced cellular renewal and revitalized natural defenses are only a part of the benefits of this cleansing product – the perfect companion on your summer adventures!
Corine de Farme Makeup Removing Wipes (AED 15.75)
With free radicals in the air out to clog our pores and wreak havoc on our skin, a soothing and efficient makeup remover is crucial. Corine de Farme's makeup removing wipes are perfect for cleaning the skin on-the-go, quickly and effectively. The best part is that it is totally natural!
Wet n Wild Eyeshadow Quads (AED 33.60)
Your calendar might be filling up quick, so if you don't wish to spend hours upon hours on your makeup, give the eyeshadow quads from Wet n Wild a go. Not only are they heavily pigmented, but the ideal combination of the four colours can achieve a fresh and easy look.
Physician's Formula MuruMuru Butter Bronzer (AED 79.00)
This renowned product is formulated with MuruMuru butter, along with essential fatty acids and vitamins that will condition and soften the skin during wear. Plus, you can fake a gorgeous tan in under a minute with this! Perfect for your summer, be it indoors or outdoors.

Hask Cactus Water 5-in-1 Leave-in Spray (AED 33.60)
This miracle spray is all you need for your dehydrated tresses to be brought back to life. Formulated with cactus water for nourishment, and prickly pear seed oil for light-weight moisture, Hask's 5-in-1 Leave-in Spray will be your hair saver this summer. The price isn't too bad either!
Palladio High Intensity Lip Balm (AED 42.00)
Our lips will likely be craving moisture in this heat. Palladio offers a pencil that applies like a lip balm and gives you the effect of a lipstick. A 3-in-1 dynamic product from Palladio that can spruce up your look and moisturize your dehydrated lips in a second is certainly an essential this summer.

Oh So Heavenly Body Wash (AED 19.95)
The heat this summer will have us sweating day in and day out. The sweat build up is not something we want to keep on us. This cleansing and moisturizing body wash from Oh So Heavenly will not only thoroughly cleanse the skin, but it smells so delicious, you wouldn't want it far from you this summer.
Tree Hut Nourishing Salt Scrub Hawaiian Salt (AED 90.30)
A body scrub helps shed the dead skin cells, and prompts the regrowth of new ones. This is important to keeping our skin looking young and fresh from head to toe. The Tree Hut scrub combines elements found in Hawaii such as Alaea Volcanic Clay and Kukui Oil to refine and rejuvenate the skin. The fragrance alone is enough to refresh your senses.

Hask Charcoal Purifying Dry Shampoo (AED 16.80)
Dry shampoos aren't the first thing that pop up when it comes to summer essentials – but they definitely are, especially when you're traveling! Avoid washing your hair often, and use this gem of a product to soak up sweat, oils and odors from your hair. It will freshen up the look and feel of your lovely locks.