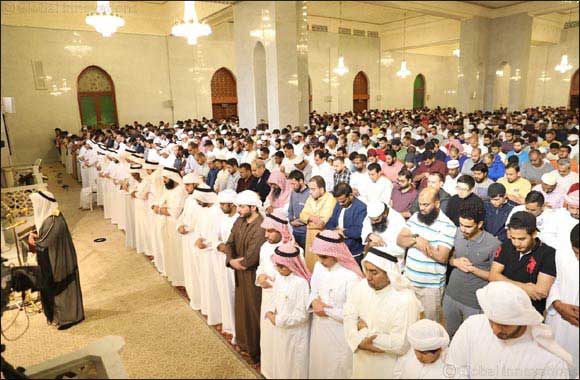 Under Ramadan Dubai activities
28 May 2019, Dubai, UAE: 10,400 worshippers performed their prayers with Sheikh Mishari bin Rashid Al-Affasi, Imam of the Grand Mosque in Kuwait, including 5,000 worshippers at the Grand Rashidiya Mosque on the night of 21st day of Ramadan and 5,400 worshippers at the Sheikha Hind bint Jumaa Al Maktoum Mosque in Zabeel on the night of 22nd day Ramadan.
Dr. Omar Mohammed Al-Khatib, Executive Director at the Dubai Islamic and Charitable Activities Department, said that the worshippers Intensify their efforts in the last ten days of the holy month because of its advantages as the most preferred ten nights of worship and good work. It was the most important days of Ramadan when the Prophet, peace be upon him, and his companions most keen on obedience, worship, remembrance.
Sheikha Al Marri, Head of Media and Communication Team of Ramadan Dubai Organizing Committee, said: 'The Rashid Bin Mohammed Ramadan Forum hosted 21 readers from outside the country and 102 from within the UAE. The event is one of the most important Ramadan events in the Gulf and the Arab world. The first two weeks of the holy month witnessed the hosting of a roster of high-ranking readers of the Islamic world on the land of Dubai to revive the Sunnah of the Prophet, peace be upon him, perform the rituals of Taraweeh prayers and Qayyam al-Layl, and listen to the recitations of the Holy Quran in the most reprehensible voices in the Arab and Islamic world, (Kuwait), Saad bin Saeed al-Ghamdi (Saudi Arabia), Idris Abaker (Yemen), Adel Abdullah Rayyan (Yemen), Wadeea al-Yemeni (Saudi Arabia) and Hamza al-Far (Jordan).
Al-Marri said that among the most prominent readers of the last ten days of the holy month are the readers Rabov Siratulu (Tajikistan) and Fahad Wasel Al-Mutairi (Kuwait), Mohamed Mubarak Al-Faw (Bahrain) and Ahmad Bin Shar Al Sheikhi (Saudi Arabia), From the country Ahmed Musa Al Balushi, Ismael Al Buraimi, Tariq Hatout and Ahmed Abdul Rahman Al Sharid.
Dr. Omar Mohammed Al Khatib (IACAD), honoured Sheikh Mashary Bin Rashid Al Affasi and extended to him greetings from Department and gave him a certificate of appreciation.