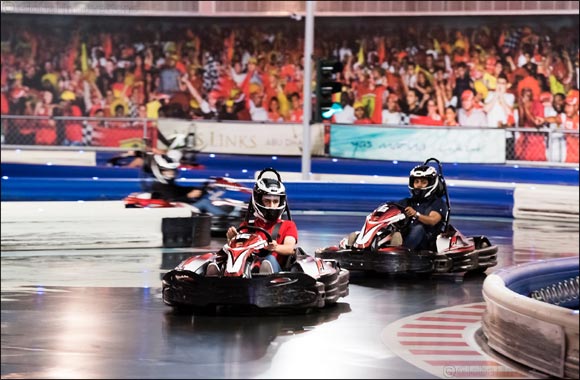 The Rollercoaster Rally will be on the first day of Eid Al Fitr
Abu Dhabi, United Arab Emirates, 27 May 2019: Adrenaline junkies across the capital will be spoiled for choice this Eid Al Fitr as Ferrari World Abu Dhabi's riveting Roller Coaster Rally returns for the third year running. As the grand finale to the park's highly popular Free View season, fans and their friends and families are invited to enjoy an evening of delightful entertainment on the first day of Eid Al Fitr, from 6:00 pm until midnight.
The Roller Coaster Rally will see the park extend its opening hours to midnight, offering free entry after 6:00 pm. Those looking for a boost of adrenaline can look forward to experiencing the park's award-winning rides and attractions such as the world's fastest rollercoaster Formula Rossa, or Flying Aces which is guaranteed to get pulses racing as guests fly through the world's highest rollercoaster loops, hitting speeds of up to 120 km/hr. Guests can also experience the rush of back-to-back thrills in the gravity defying Turbo Track or race friends in a little healthy competition on twisting parallel tracks in the dueling coasters Fiorani GT Challenge.
Bianca Sammut, General Manager of Ferrari World Abu Dhabi, commented: "The long-awaited Roller Coaster Rally is where you want to be this Eid.
We're always looking to provide one-of-a-kind experiences for guests, and the Roller Coaster Rally is the perfect occasion to bring together families from across the region to celebrate Eid Al Fitr, no matter how big your appetite for adrenaline is."

With a winning mix of adrenaline-filled rides and family-friendly entertainment, ticket prices for one ride are set at AED 60, while guests can enjoy unlimited access to rides for just AED 100 at the region's leading theme park. That's not all, little racers can choose from a wide range of family-friendly attractions across the park to set their imaginations free.

The Roller Coaster Rally will include a live DJ playing the best today's top tunes, roaming entertainment and scheduled shows in La Piazza Scale ensuring guests have plenty of reasons to celebrate Eid at Ferrari World Abu Dhabi.

Hungry Ferrari fans can refuel at the Officer's Food Quarters for a quick bite of sizzling pizza before heading back to the rides, whilst shoppers can scout the park for Ferrari-branded merchandise. Whether you crave a quick bite on-the-go, or a leisurely meal with family and friends in an Italian trattoria at Mamma Rossella, there's a dining experience to delight every taste.