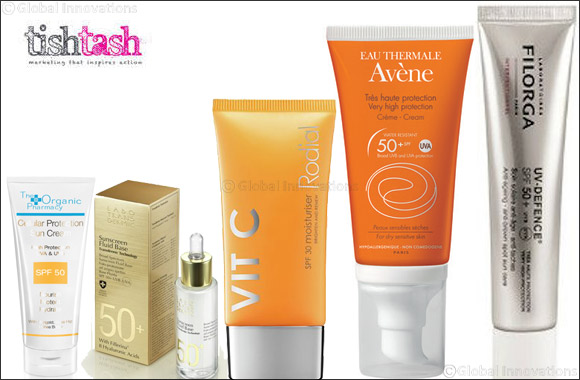 Dubai, United Arab Emirates - May 15, 2019: Vitamin D is an essential that we all need, to vitalise our bodies, but being out and about in the sunshine means you're being exposed to damaging UVA and UBV rays. Luckily, SPF, our new best friend during the summer months, is here to help protect us.
SPF, Sun Protection Factor creams can be categorized based on their capacity to absorb the sun's ultra-violet rays. Eg. An SPF 15 can readily absorb about one-fifteenth of the sun's rays as opposed to an SPF 30 cream that offers double the protection. Hence, it is essential you choose your SPF creams wisely.
We have put together our must-have sunscreens that should become a daily part of your skincare regime. – Take your pick!

1. Rodial Vitamin C Moisturizer SPF 30 (AED 467.25)
Formulated with SPF30, this lightweight moisturiser works to deeply hydrate the face while protecting from daily sun damage. The Vitamin C enriched formula also works to diminish the look of fine lines to reveal a brighter and renewed complexion. Available at Bloomingdales Dubai
2. The Organic Pharmacy Cellular Protection Sun Cream SPF 50 (AED 245)
A natural mineral face sunscreen lotion that combines titanium dioxide and zinc oxide to provide protection against UVA and UVB rays. Available at Talise Spa..
3. Filorga UV Defense SPF 50 (AED 240)
To counteract the harmful effects of the sun during sun exposure and as daily UV protection, Filorga's UV Defense cream features powerful anti-ageing and sun protection active ingredients. Sun filters boosted by SunActin and vitamin E block UVB and UVA light and procure anti-oxidant action for very high protection SPF50+. Available at all leading pharmacies like Binsina, SuperCare and United.
4. Labo Transdermic Sunscreen Fluid Base SPF 50 (AED 249)
All Labo Transdermic creams and serums are devoid of sun-filters as they are designed to be used both day and night. This light but rich emulsion contains broad spectrum UVA and UVB sunscreens and offers a very high protection (50+). The Sunscreen Fluid Base is specifically formulated in order to be used in several ways: three drops of it can be blended into the usual Labo Transdermic cream to make it a perfect highly protective day cream. When used alone, it is a complete sunscreen that can be, possibly, followed by the usual Labo Transdermic cream. Finally, it can be matched with any other cream that does not contain sun-filters.
Available at all leading pharmacies.

5. Avene Eua Thermal SPF 50 (AED 132)
Infused with SPF 50 that offers protection against harmful UV rays and the Vitamin E ensures your skin feels hydrated and moisturized. The Cucurbita pepo extract provides a mattifying appearance to the skin. Available at all leading pharmacies.