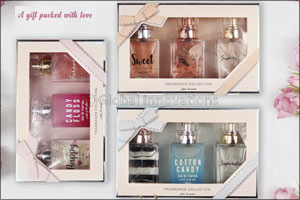 From spicy and saucy to floral and fresh, here's how to find the perfect scent for you.
May 14, 2019 - Dubai, UAE
Scent is a significant part of your personal style. As one of the most delicate yet strong parts of the human sensory experience, it communicates more about you than anything else because other people can smell you without looking at or talking to you.
What kind of fragrance wearer are you?
Are you loyal to one signature scent that you never stray from or do you play with different perfumes depending on your mood and the occasion? This week, Max Fashion announced the launch of a new fragrance collection consisting of 17 different options, providing a whole host of opportunities for you to find your own special scent.
It is important to find the right fragrance for yourself as scent can evoke memories and give off a certain vibe. We asked Max Fashion experts for tips on how to choose the perfect scent that will match your own unique style and personality. Here is what they had to say:
1. Take notes: Each perfume or cologne consists of different 'notes' that determine the overall scent. Some perfumes would be considered floral while others may be a bit fruitier. It is always a good idea to determine which types of perfume you prefer and then see which notes they contain before buying.
Max Fashion's trendy collection for the young and fun includes fruity top notes with undertones of citrus, apple, peach and berries in eight sweet scents – namely Dream, Fabulous, Superstar, Forever, Sweet, Happy, Candy Floss and Cotton Candy in pretty bottles that fit inside your bag. Infused with ingredients that echo freshness and vitality like coconut, vanilla, amber, jasmine, rose and musk – everyone that meets you will instantly be energized by what your perfume exudes!
Max Fashion's new range also offers fragrance gift sets that include multiple mini scents, so you can pick and choose what to fall in love with.
2. Choose your concentration: Eau de parfum typically lasts for longer than eau de toilette so it is important to choose your scent based on your personal preference. Lighter concentrations still have a true-to-character impression and may be more preferable to wear to work or during the daytime when you might want to make a more subtle statement.
Truly captivating scents have an impulsive and vibrant character. This type of perfume leaves a velvety trail of scent in the wearer's wake and are great accessories on evenings and nights out. Warm and floral scents from Max Fashion – Live, Love and Party sit sweet jasmine, rose and magnolia above a rich blend of vanilla, musk and sandalwood among others. For those who love to travel and seek out adventure, this family of fragrances is highly appropriate for their size and shape that can easily fit in a bag!
3. Strong yet sensitive: Sophisticated, elegant and sober types like to wear a woodsy scent. Generally preferred by men, these sporty fragrances are particularly reminiscent of the forest, youth and freshness. Max Fashion's Black Tie, Exclusive and Extreme eau de parfum feature aromatic notes such as sage, patchouli, oakmoss, musk and sandalwood that leave a fresh and virile trail in the wearer's wake.
4. What's the time? Many people prefer a fresh, natural scent for daywear, particularly if most of their time is spent at work – base notes would include orange blossom, jasmine, Turkish rose and ylang ylang among others. For evening, scents are usually richer and warmer, with hints of spice and wood. Heavier floral blends are also important. Oriental scents such as Max Fashion's Delicate Oud, Majestic Oud and Precious make an impact that is sophisticated, yet not overpowering.
The perfumes are available as eau de parfum and body mists which can be worn together or apart, to create the aromatic effect you prefer.