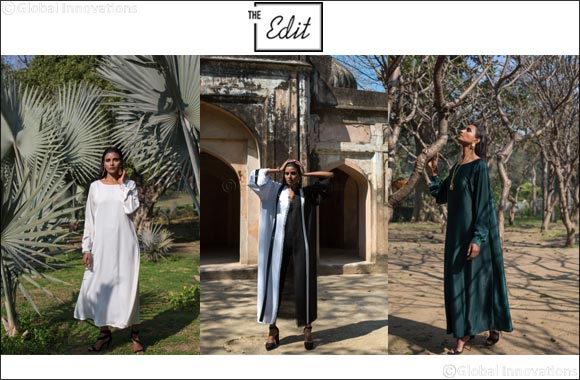 Dubai, UAE, April 17, 2019: With the 30-day intense fasting quickly approaching, fashion and trekking around the malls may be the last thing on your mind, and for that reason The Edit has put together their carefully curated selection of modest items to see you through the Holy Month in style. Conservative and elegance is the name of the game and the options available range from chic and sophisticated dresses to preppy jewellery that will see you from day-to-night.

The Ramadan Edit:

Abayas by Elna Line – 600 AED
This elegant silhouette has garnered Elna Line with its signature polish. The featherweight and lightness of the fabric add a touch of elegance for after-work iftars. This outfit brings a modern approach to Ramadan styling and can be combined with a chic piece of jewellery.

Belmonte Blazer by Catherine Quin – 2,575 AED
A classic blazer is a must during Ramadan, even when temperatures are high, you can simply pop it over your shoulders for the modest look.

Abayas by Elna Line – 1,300 AED
The design of this Kimono is enhanced with voluminous layered detail and can make a contrast with powdery silver shades and metallic heels. The embellished work on the design allows one to style this effortlessly.

A-line skirt by Kallmeyer – 1,481 AED
This A-line skirt is flattering for most with its cinched in waist and mid-length. You can wear formal or casual – it's the perfect transitional piece to have in your wardrobe.

Cao Earrings by Monica Sordo – 2,095 AED
Statement jewellery is the ultimate way of jazzing up any outfit during Ramadan. These Cao earrings by Monica Sordo are the faultless additional to your jewellery collection.

The Edit is a collective lifestyle space brings together fashion, accessories, art, beauty, home décor and a coffee bar all under one roof. Each collection has been carefully selected, bringing customers a fresh and different feel from anything else in the region.