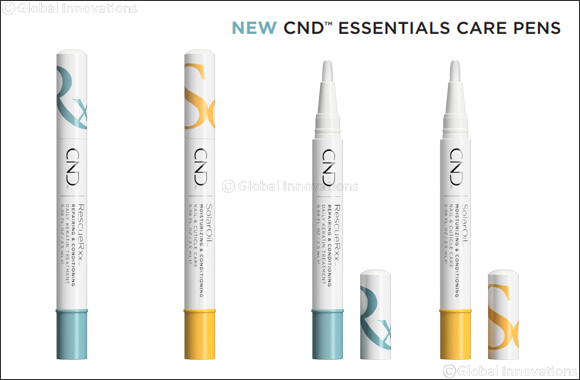 The quest for healthy looking nails has just become easier – and more convenient - with portable pens packed with everything needed for better nails. CND™, the global leader in professional nail products and services, introduces on-the-go, essential treatments featuring moisturizing ingredients for advanced nail and cuticle care in between manicure appointments.

Dubai, UAE, April 17, 2019: Available in CND™ Solar Oil™ and CND™ Rescue RXx™, each Essential Care Pen was developed to help repair, moisturize and protect nails and cuticles. These clinically-proven and professionally-used formulations help nails, whether in-between salon appointments or as a consistent touch up. Enjoy controlled, precise and efficient application in convenient, travel friendly packaging for effortless nail pampering anytime, anywhere.
"Our Essential Care Pens offer a quick, easy and portable treatment for any nail lover or nail pro teaching a consumer to take better care of their nails, while still providing the same benefits of our popular CND™ Solar Oil™ and CND™ Ridge RXx™ care products," says CND™ Co-Founder and Style Director, Jan Arnold. "We live in a world that is so fast-paced, and we are always on the go - these products are perfect for storing in your purse, luggage or at your desk to keep nails strong and beautiful between your manicure appointments."
CND™ Essential Care Pens Benefits
CND™ Solar Oil™ Nail and Cuticle Care Pen – Formulated with a gentle blend of naturally light oils and vitamin E, it is designed to penetrate nails and cuticles to provide moisture and protection.
CND™ Rescue RXx™ Daily Keratin Treatment – Formulated with Keratin, jojoba and sweet almond oils, this treatment helps repair damaged nails so they feel stronger while restoring moisture.
How to Use: First usage: Twist Pen a few turns until product is dispensed. Continued usage: Twist pen once to release product. Store upright in a vertical position.
Available as a salon service nationwide; Visit the Salon Locator on creativebeautysource.com to find the salons near you