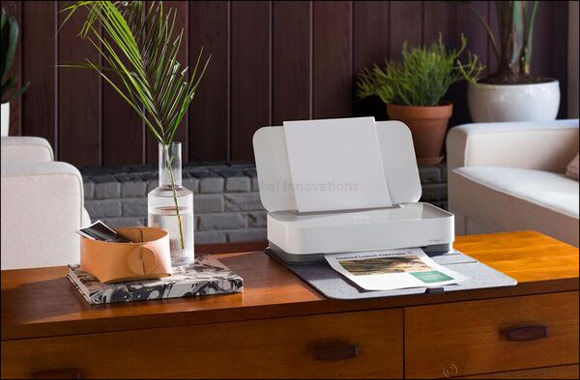 Dubai, United Arab Emirates – 21 March 2019: Sometimes it's the simplest of things that makes life easier. And this sleek, fully app-based, voice-activated printer, is it. With seamless set-up and cloud-based connectivity, you can print, scan and copy from anywhere. And, because it's so beautifully designed, it will blend seamlessly into your home décor when not in use.
Minimalist and compact design for the Smart Home

First of its kind covers based on the latest trends in International fashion, design and materials.
Soft materials serve as both an aesthetic accent and paper landing zone.
A "guided lighting" LED illuminates the paper tray when it's printing or out of paper.

HP Smart App Powered

Use the app to communicate with Tango.
Print anywhere using cellular data or a remote WIFI connection.
Never run out of ink. Order ink directly from the app or let Tango do it automatically with HP Instant Ink.
Be notified when a print job is complete, how your ink and paper levels are, or if your cover is closed.
Pricing & Availability
Launched today, the HP Tango will be available in the UAE, to reinvent home printing for AED 799 (including the VAT). Download the HP Smart App from the Apple or Google Play Stores.