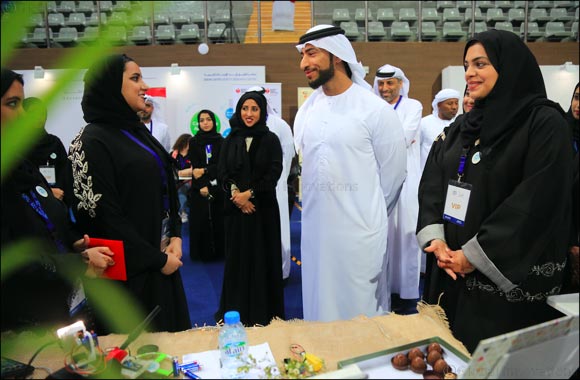 Under the patronage of His Highness Sheikh Abdullah Bin Zayed Al Nahyan, Minister of Foreign Affairs & International Cooperation and Chairman of Emirates Foundation
Think Science Fair 2019 in Fujairah Features 150 outstanding Competition Contestants from across schools and universities
The Think Science Fujairah Fair comes following the success of the Fair in Dubai, Abu Dhabi, Sharjah and RAK which witnessed the attendance of more than 24,000 youth
Fujairah, UAE –17 March 2019 – Under the patronage of His Highness Sheikh Abdullah Bin Zayed Al Nahyan, Minister of Foreign Affairs & International Cooperation and Chairman of Emirates Foundation, and in partnership with the Ministry of Education and attendance of Sheikh Abdullah Bin Hamad Al Sharqi President of the Emirates Bodybuilding and Fitness Federation, Think Science Fair - Fujairah 2019 was held at Zayed Sports Complex, part of the General Authority for Sports- the host sponsor in Fujairah, with the participation from 150 contestants from across schools and universities in Fujairah.
Exceptional Youth innovations were presented in Fujairah with special focus on safety systems with projects such as 'Earthquake Safety Bed', and 'Drone Firefighter'. Additional outstanding innovations were in the areas of Energy, Environment, and smart systems with projects focusing on the utilization of technology in the advancement of the educational system in the UAE.
The Think Science Fair provides young people with the opportunity to engage with strategic scientific network, as well as to witness several interactive performances, workshops and educational sessions. The Think Science Fair in Fujairah witnessed exceptional activities presented by the UAE Genetic Diseases Association focusing on the impact of genetics on our daily lives and building awareness amongst youth regarding genetic and hereditary diseases. Furthermore, interactive workshops led by the Emirates Intellectual Property Association were offered during the Fair with the objective of raising awareness amongst youth regarding intellectual property rights in the UAE. Simulation sessions were also organized in the sector of aviation and lastly, led by the Abu Dhabi Islamic Bank, financial planning sessions were organized where youth were taught how to utilize technology to better manage their personal finances.
H.E. Maytha Al Habsi CEO at Emirates Foundation expressed her gratitude to the leadership of the General Authority for Sports and Zayed Sports Complex for their generous support and commitment to the advancement of youth development in the UAE.
Al Habsi further elaborated: "'Think Science competition and Fair is but an extension to the vision of His Highness Khalifa bin Zayed bin Sultan Al Nahyan, president of the UAE and in line with the science, innovation and technology policy of the UAE, providing a unique opportunity for youth to showcase their talent in science and technology, develop knowledge and share expertise, and be part of the UAE's growth today and in the future. "
Through our presence in Fujairah today, we aim to inspire, encourage and celebrate youth, providing them with opportunities to further develop their knowledge and analytical thinking, and enabling them to become active participants in finding groundbreaking solutions to local and global technological issues." Al Habsi concluded.
The Think Science Fujairah Fair comes following the success of the Fair in Dubai, Abu Dhabi, Sharjah and RAK which witnessed the attendance of more than 24,000 youth, the concluding Think Science Fair will take place in Ajman and Um Al Quwain on March 21st.
More than 50 partners from private and public sectors, academia and industry will deliver hundreds of science activities and workshops within their stands at the Think Science Fair 2019. These include the Fair's strategic partners Occidental Petroleum, Total and ADNOC. The Energy partner the Emirates Nuclear Energy Corporation, and other Fair sponsors and partners including Abu Dhabi Islamic Bank, British Petroleum, Dolphin Energy Limited, Hamdan bin Rashid Al Maktoum Foundation for Distinguished Academic Performance, PepsiCo, UAE Space Agency, Honeywell, and Etisalat the digital partner.
Since its launch in 2013, the Think Science Fair has attracted over 70,000 Youth and visitors who had the opportunity to engage and see around 1,340 projects from 3,700 contestants from across the UAE.
Think Science 2019 winners will be announced at a special award ceremony, where one winner per category will be announced as follows: First Place for each school category at each Emirate;
First Place for each university category; Think Science People's Choice Award 2019, which is chosen by visitors voting live in each Emirate; Think Science Outstanding Display Award 2019 in each Emirate. In addition, and for the first time, this year's competition will introduce the "National Geographic Kids Abu Dhabi Special Award focused on the Smart Systems and AI category with a trip to Nasa in the United States. Lastly, an award will also be introduced this year for schools and universities with the highest number of participating projects.