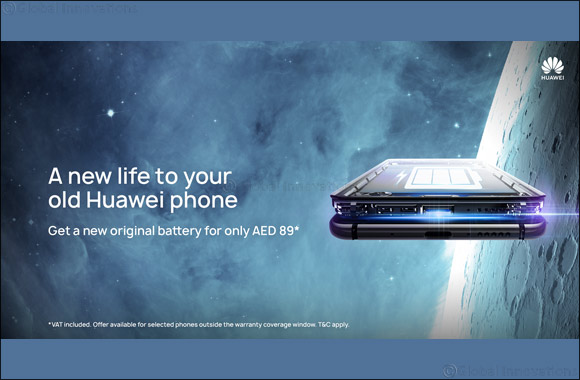 Huawei's service centers offer AED89 flat rate battery replacement till 31st of March
Dubai, United Arab Emirates – 7th March, 2019: To reward its first smartphone customers in the UAE, Huawei has launched an AED89 dirhams one-port battery replacement promo that lasts until March 31, 2019 and offers users authentic batteries at a reasonable price.
A recent YouGov survey revealed that 9 in 10 respondents in the UAE own a smartphone, with respondents spending an average of 6.5 hours a day using their phones. Nowadays, smartphones have become an integral tool in people's lives. We rely on it to fulfil our various day to day needs and requirements, from business emails and personal chats, to professional photography and health tracking. Our smartphones are an indispensable personal assistant, so when it is time to give them an energy boost by updating the battery, how do we make sure we are offering them the best quality care?
Currently, almost all mobile phones use undetachable battery design. Hence, it is not easy to replace the battery and improper operations may cause the phone to malfunction or even cause security problems. Moreover, the lifespan of the battery depends on multiple factors, including the way the consumer uses the device and the selected energy saving settings. That is why Huawei encourages its users to visit authorized Huawei service centers in order to provide them with expert advice on how to maintain their smartphone batteries, optimize their lifespan and ensure they are replaced using proper tools and processes by professionally trained Huawei staff that will dispose of the old battery in an environmentally friendly manner.
Protecting users' security as well as the environment we live in are the driving forces behind Huawei's ongoing efforts to educate consumers on the importance of battery maintenance at authorized centers and with minimum environmental impact. Until the end of March, consumers can visit the Huawei service centers and replace their batteries for only AED 89 dirhams, allowing them to play a valuable part in protecting their ecosystem.
David Wang, Country Manager at Huawei CBG UAE, commented: "At Huawei, we place a great importance on building the trust of our users and establishing solid communication channels. From offering customers expert advice during their hands-on discovery of our products at the Huawei Experience Stores and providing them with the utmost professional maintenance service at our authorized centers, to continuously sharing vital updates and information that guarantees they are making use of all the innovative technologies their smartphones are packing."
He continued: "As part of Huawei's social responsibility mission, we are equally dedicated to making environmentally friendly choices, which is why educating our customers about the importance of battery maintenance and correct replacement is a priority. Un-official channels can damage the devices, cause performance problems, put users' security at risk and provide poor quality batteries that might have not undergone the strict standard tests Huawei follows during production. Not to mention that unauthorized service centers might not be equipped or committed to safely disposing or recycling the replaced batteries, therefore harming the environment and subsequently the users. That is why we recommend all our customers to visit our authorized Huawei Service Centers."
During the installation and removal of batteries, if the maintenance personnel disassemble the phone without using maintenance tools for Huawei products or following maintenance processes that comply with the company's standards, then the battery and other components may be damaged, and security cannot be guaranteed. In addition, if users select an unauthorized channel to replace or repair the battery, the phone will be out of warranty.
The AED89 battery replacement promo is offered for 15 models and it will be available until 31 March 2019. Below is the list of eligible smartphones:
HUAWEI MATE SERIES
HUAWEI P SERIES
HUAWEI NOVA SERIES
HUAWEI Y SERIES
Huawei Mate 10 Pro
Huawei Mate 10
Huawei Mate 10 Lite
Huawei Mate 9 Pro
Huawei Mate 9
Huawei Mate 8

Huawei P10

Huawei P10 Plus

Huawei P9

Huawei P-Smart

Huawei Nova 3E
Huawei Y7 2017
Huawei Y5 2017
Huawei Y3 II
Huawei Y360
Please read the Terms & Conditions that apply to Huawei UAE AED89 original battery replacement service prior to visiting one of the following authorized Huawei Service Centers:
- Sky Tower, Sheikh Zayed Road, Dubai
- Al Qubaisi building, Hazza Bin Zayed St., Abu Dhabi