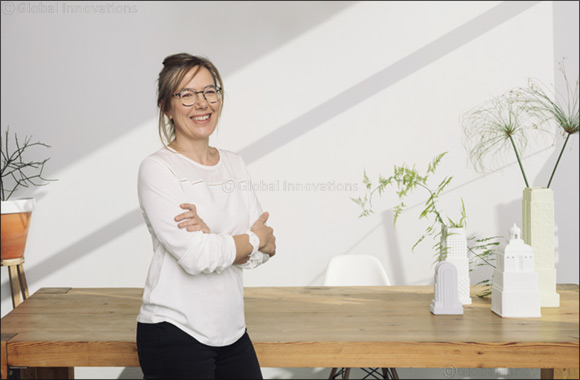 A design collaboration that is a true gem
February 20, 2019 - United Arab Emirates: With her European flair, natural positivity and curiosity for new things, when it comes to design, Spanish designer Inma Bermudez is known for creating new and interesting versions of everyday objects. In 2019, she has worked with pioneering, design-led watchmaker Rado to create her first wristwatch.
Lighting, vases, clocks, kitchenware, textiles and bathroom fittings have all received the Inma Bermudez treatment, and the award-winning designer regularly breathes new life into practical, everyday items we tend to take for granted. With expertise in crafting objects from delicate porcelain, working with Rado's super hard high-tech materials was a real challenge for Inma.
From her studio in Valencia, Spain, which she established in 2007, Inma came up with the initial concept for the True Thinline Gem. It was based on the idea of using signature Rado materials to create a twist on classic jewellery design that looks super modern as well as enduring.
Combining facetted sapphire crystal – a material technology Rado has used since 1962 – cut to look like an enormous diamond with a textured relief dial that recalls the many objects Inma has crafted in porcelain, the True Thinline uses a unique play of light absorption, reflection and refraction to create the illusion of depth and thickness in the brand's groundbreaking thinnest watch, which has a case just 5 mm thick.
Adding to the depth and sparkle is the application of 12 tiny diamonds at the outer edges of the dial as well as subtle gold colour detailing that draws the eye and adds warmth to the icy, porcelain look of the True Thinline Gem.
Speaking about the collaboration with Inma Bermudez, Rado CEO Matthias Breschan said: "Inma has brought a unique lightness and optimism to the True Thinline as well as conveying hardness, depth and durability through her choice of jewel motif. It was a fantastic challenge for Rado to use our own materials in a new way for a product that has the eternal feel of a diamond and the long-lasting appeal of a classic idea."
The True Thinline Gem in pure white high-tech ceramic with facetted sapphire crystal and diamond indexes is available in a limited edition of 1,001 pieces, each with a special case back engraving. It is the latest in a series of designer collaborations for Rado, the most forward-thinking design player in watchmaking today and a multi award-winning designer in its own right.